Balad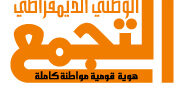 The National Democratic Assembly (also known as Balad or Tajammu') is a secular Arab nationalist party, currently led by Sami Abu Shehadeh.
Balad's platform calls for Israel to become a "state for all its citizens", while emphasizing the Palestinian citizens' national identity and ties to the Arab world. Balad's Knesset members, particularly former MKs Azmi Bishara and Haneen Zoabi, were the subjects of fierce political attacks by Jewish-Israeli politicians, including successful motions to disqualify them from elections, which were overturned by Israeli Supreme Court.
Ahead of Israel's March 2015 national elections Balad formed the Joint List together with Hadash, Ra'am and Ta'al. But it decided to join with Ra'am in the May 2019 elections as part of the joint Balad-Ra'am list. Balad rejoined a resurrected Joint List to contest the September 2019 elections and remained a member until its dissolution ahead of the November 2022 elections.
Balad had 3 members in the last Knesset: Mtanes Shehadeh; Heba Yazbak; and Sami Abu Shehadeh.