Mohammed Dahlan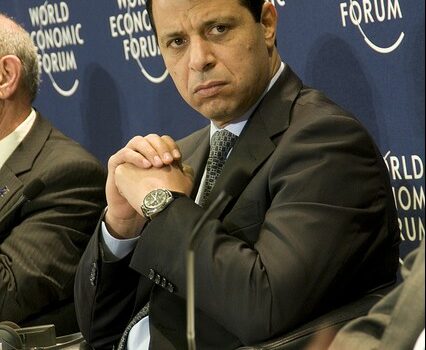 Mohammad Dahlan is a former head of the Palestinian Authority's Preventive Security in Gaza and a senior member of Fatah opposed to president Mahmoud Abbas. He leads a break-away Fatah faction, the Democratic Reform Bloc.
Dahlan was elected to Fatah's Central Committee in 2009, but increased tensions with Abbas led to his expulsion in 2011. He now lives in exile in the United Arab Emirates where he serves as an adviser with a security-focused portfolio for Abu Dhabi's ruler Mohammad Bin Zayed. He has reportedly also acquired Serbian nationality. During this time Dahlan has created a profile for himself as an influential yet polarising regional player.
Born in 1961, Mohammad Dahlan grew up in Khan Younis refugee camp and was a founding member and leader of Fatah's al-Shabiba, the youth arm of the party, while a student at Gaza University. Israel deported him from Gaza in January 1987 to Jordan. From there he joined Yasser Arafat and the exiled PLO/Fatah leadership in Tunis.
Following his return to the occupied Palestinian territory in 1994 as part of the Oslo Accords, he was appointed to head Preventive Security in Gaza with a mandate to suppress local opposition to the PLO.
By the mid-1990s, Dahlan commanded a well-organised force of about 20,000 members, giving him great powers within Gaza and strong relations with Israeli, American, and regional intelligence agencies. His forces were accused of committing grave human rights violations at the time, mainly against members of Hamas, including arbitrary arrests and torture and the killing of protestors on 18 November 1994.
By the time of the Second Intifada, Dahlan had established himself as a trusted partner of the Israeli security establishment and began to pose a direct challenge to Yasser Arafat. In 2001, he made public calls to reform the PA and resigned from his post as security chief in protest against what he said was the corruption of Arafat's rule.
In 2003 he served as a short-lived minister of state and security affairs under then prime minister Mahmoud Abbas until the latter's resignation. Following Arafat's death in November 2004, Dahlan was reappointed by Abbas (now president), this time as minister of civil affairs, directly responsible for coordination with Israel. He held this position until the 2006 Palestinian Legislative Council (PLC) elections when he was elected to represent Khan Younis.
Between 2006-2007, as head of the National Security Council, Dahlan reportedly led preparations for a US-backed military effort by Fatah security forces to overthrow the Hamas government in Gaza. This was pre-empted by a Hamas coup in June 2007 and resulted in the Islamist movement seizing full control of the Strip following bloody clashes. At that time, Dahlan fled to the West Bank but fell out with Abbas and other Fatah leaders, who blamed him for the Gaza debacle.
In 2016, Abbas stripped him of his parliamentary immunity. The same month, he was convicted by the PA's Anti-Corruption Crimes Court of embezzling $16m and was sentenced in absentia to three years in prison.
In November 2019, Turkey offered a $700,000 reward for information leading to his arrest, accusing him of "being a mercenary for the UAE and involved in a 2016 coup attempt against Turkish President Recep Tayyip Erdogan."
Dahlan retains a small and localised support base in Gaza, particularly in his home-town of Khan Younis, and among groups that received financial or other aid from him or through the Palestinian Centre for Human Perseverance (FATA) which his wife, Jalila Dahlan, heads. He is thought to have support from armed groups in the West Bank refugee camps, including in Balata and Jenin.
He is considered close to Egyptian president Abdel Fattah al-Sisi, and has led Egyptian diplomatic missions, including negotiations for a dam project on the Nile river with Ethiopia and Sudan. He has also been described as a middleman for funnelling weapons to UAE-backed militias in Libya.
Throughout this time, Dahlan has reportedly maintained strong links to the Israeli security establishment and political leaders. More recently, he has been using his strong relations with regional powers to insert himself back into Palestinian politics. This reportedly included a three-way deal with the Egyptian government and Hamas which would allow him to make a political return to the Gaza Strip.