Al-Aqsa Martyrs Brigades (AMB) – Fatah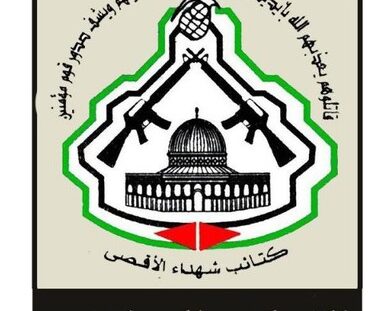 The al-Aqsa Martyrs Brigades (AMB) emerged during the Second Intifada as a loose network of military groups associated with Fatah, largely initiated by activists from the Balata refugee camp near Nablus. It has since expanded across the West Bank and into Gaza where it often cooperates with other militants groups including Islamic Jihad's al-Quds Brigades and Hamas' Izz al-Din al-Qassam Brigades. In Jenin, it operates with these group's under the umbrella of the so-called 'Jenin Battalion'.
Although it was never officially recognised or openly backed by Fatah, many Fatah leaders have maintained an ambiguous relationship with the AMB.
The AMB is nominally headed by Zakaria Zubeidi — a Fatah activist currently imprisoned by Israel. In May 2022, AMB members in Gaza reportedly elected Salem Thabet as their military leader. The move was rejected by the AMB brigades in the West Bank.
Most of the AMB's original leaders have been captured or killed by Israel. The Palestinian Authority launched a security campaign against group members in Nablus and Jenin between 2007-2008. In 2010, the remaining activists reached a deal with Israel through the PA to be removed from Israel's wanted list in return for renouncing violence and surrendering their weapons to the PA. Many of these activists were also absorbed into the PA security forces; others kept their weapons and were targeted by the PA. Others went on to form a variety of splinter groups, such as: the al-Aqsa Martyrs Brigades-Nidal al-Amoudi, al-Aqsa Martyrs Brigades-Jaish al-Asifah, al-Aqsa Martyrs Brigades-Ayman Jawda, and the Popular Resistance Committees (PRC) — all of which are active in Gaza.
In April 2016, Palestinian Authority (PA) security forces clashed with AMB members after reportedly attempting to arrest a murder suspect in the Old City of Nablus. A few months later, in August, PA security forces arrested Ahmad Izzat Halawa, a local AMB leader, over alleged involvement in the killing of two PA officers during clashes earlier that month. Halawa was reportedly beaten to death while in detention, provoking local protests.
In March 2022, an AMB-linked individual, Dia Hamarsha, killed 5 in the Israeli town of Bnei Brak. The following week another AMB-affiliated individual from Jenin, Ra'ad Hazem, killed 3 Israeli civilians in Tel Aviv. AMB has not claimed responsibility for steering these attacks.
The AMB claims to be a continuity of "The Storm" (al-Asifah) and "Fatah Hawks" (Suqoor Fatah), armed Fatah groups which were absorbed into the PA's security forces. However, many of its members were young activists who were part of the Tanzim, a grassroots organisation of Fatah activists that was led by Marwan Barghouti, who Israel claims also led the AMB. During the Second Intifada, the AMB carried out numerous armed operations. The group initially targeted Israeli soldiers and settlers in the West Bank and Gaza but shifted in 2002 to suicide attacks on civilians inside Israel.