Ahmad Tibi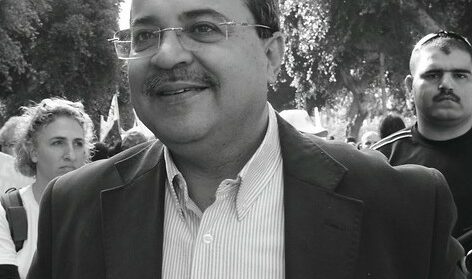 Dr Ahmad Tibi was born in 1958 and has been a member of the Israeli Knesset since 1999. He is the chairman of the Ta'al party which he co-founded in 1996 with a group of Arab academics. Tibi served as deputy speaker of the Knesset between 2006 and 2013.
In 1999, he was briefly a Knesset member for Balad, before resigning from the party and re-constituting Ta'al. In January 2010 Tibi announced he was withdrawing his Ta'al party from the Joint List.
According to his Knesset biography, Tibi was involved in contacts between Israel and the PLO and served as a special adviser to Yasser Arafat between 1993-199. In 1998, Tibi served as spokesman for the Palestinian delegation to the negotiations that led to the Wye River Memorandum.
Tibi describes himself as Palestinian in nationality and Israeli in citizenship. He is vocal critics of government policy towards Palestinians in Israel and the Palestinian territories. Tibi gave what was widely seen as a moving speech to the Knesset in Hebrew in 2010 on the Holocaust, described by President Reuven Rivlin as "one of the best speeches he has ever heard in the plenum" on that subject.