Upcoming events
7 Jun
The Annual Council Meeting 2023 will take place on 7-8 June in Stockholm
13 Jun
ECFR is delighted to invite you to the launch of our latest public opinion poll. What role do Europeans expect the EU to play in the emerging…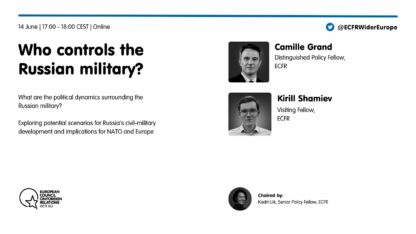 14 Jun
What are the political dynamics surrounding the Russian military? Exploring potential scenarios for Russia's civil-military development and implications for NATO and Europe
Past events
30 May
At Polityka Insight and ECFR, we believe there is an urgent need to engage in a critical conversation about the risks and trends shaping the European project. For this reason, we invite you to join forces, and participate in the Conversation on issues preoccupying the community today, and awaiting it tomorrow.
23 May
"When Russia invaded, it wasn't just Ukraine being tested", President Joe Biden declared during his visit to Warsaw in February. He was right in recognising…
22 May
This event is part of the German Forum on Security Policy, organised by the Federal Academy for Security Policy (BAKS).
15 May
NH Brussels EU Berlaymont, Boulevard Charlemagne 11-19, 1000 Brussels
The EU's publication of the Critical Raw Materials (CRM) Act on 16 March 2023 creates an opportunity to redesign the EU's relationship with Africa while…
4 May
Against a backdrop of worldwide concern about energy and food insecurity in the wake of Russia's invasion of Ukraine, COP27 took place, bringing attention to…
25 Apr
19 Apr
The ECFR Warsaw Office and Forum Energii invite you to attend the conference "European energy security" to reflect on how the events of recent months are affecting energy security in Europe and what the priorities should be in the coming period
29 Mar
Join the discussion on Georgia's future in light of the recent protests, EU accession process and Russia's influence in Tbilisi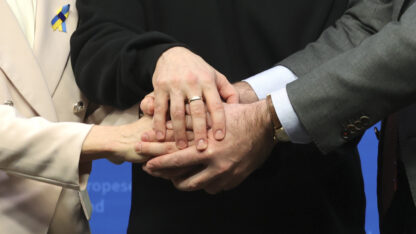 6 Mar
Nell'attuale contesto internazionale, le relazioni dell'Europa con le potenze globali stanno cambiando rapidamente, e la loro evoluzione rappresenta un elemento di analisi ineludibile nel delineare la strategia di politica estera dell'UE
3 Mar
The just-concluded general elections in Nigeria throw-up multiple contradictions. Bola Ahmed Tinubu, the declared winner, cannot resolve these by simply waving the proverbial magic wand.