Ukryta sieć powiązań w UE: od interakcji do budowania koalicji
Badanie ekspertów w 28 stolicach naświetla skomplikowaną sieć stosunków między państwami członkowskimi UE
Bliskie znajomości: kto pracuje z kim w Europie?
Europejska Rada Spraw Zagranicznych przedstawia interaktywną wizualizację danych o koalicjach zawiązywanych w UE
Które europejskie stolice mają największy wpływ na UE i kto jest postrzegany jako "kluczowy partner"? Które z 28 państw członkowskich UE mają wspólne interesy, kto najczęściej i najbliżej współpracuje i z kim? Które rządy są postrzegane jako najłatwiejsze we współpracy? Europejscy eksperci reprezentujący rządy i think-tanki mają wiedzę o stanowiskach swoich państw i o tym, w jaki sposób ich rządy postrzegają inne państwa członkowskie, ale nie zawsze posiadają pełen obraz tego, co mówi się i myśli o ich własnym kraju w innych stolicach. Dopiero wtedy, gdy zbierzemy punkty widzenia wszystkich stolic UE, będziemy w stanie zobaczyć, jak ułoży się współpraca państw członkowskich.
Dzięki interaktywnej wizualizacji danych "EU Coalition Explorer", która przedstawia wyniki badań przeprowadzonych wśród przedstawicieli rządów i europejskich ekspertów ze wszystkich państw członkowskich, ECFR jest w stanie w przejrzysty sposób zaprezentować ukrytą sieć powiązań między członkami UE.
Po raz pierwszy eksperckie poglądy o tym jak budować koalicje w Europie zostały przedstawione w unikalnej, graficznej formie. Całość danych zawartych w wizualizacji jest dostępna nie tylko dla rządów i instytutów badawczych, ale także dla opinii publicznej – jest to w świecie think-tanków wyjątkowe podejście.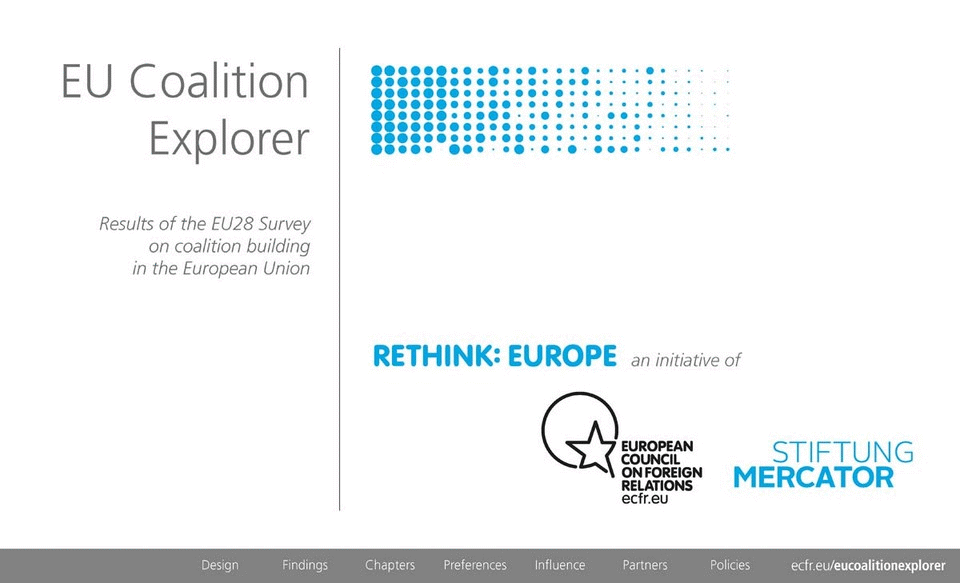 Wyniki
Najważniejsze wyniki badań eksperckich zostały podsumowane przez Josefa Janninga i Christela Zunneberga w komentarzu "Ukryta sieć powiązań w UE".
W kwestii powiązań między państwami członkowskimi i postrzegania wpływu poszczególnych z nich na politykę EU kluczowe role mają Niemcy i Francja. Waga pozostałych dużych państw członkowskich, Wielkiej Brytanii – pomimo Brexitu, Włoch, Polski i Hiszpanii, a także mniejszych państw, takich jak Szwecja i Holandia, jest także widoczna. Te państwa członkowskie wyróżniają się mocnymi więziami z innymi i dobrą opinią. Ta sama grupa ośmiu państw jest również wysoko w rankingu wpływu na politykę UE i jest uznawana przez innych jako "kluczowi partnerzy"
Centrum koalicji może znajdować się w różnym miejscu w zależności od obszaru polityki, wskutek czego istnieje kilka centrów politycznych. Francusko-niemiecka oś stanowi często trzon, ale udane inicjatywy koalicyjne w obszarze polityki zagranicznej i rozwoju, bezpieczeństwa i obrony oraz polityki fiskalnej wymagają wkładu pozostałych partnerów. Państwa w centrum danych inicjatyw będą starać się poszerzyć krąg partnerów, włączyć państwa, z którymi są powiązane, i zbudować większość. Polscy urzędnicy i eksperci postrzegają swój kraj jako najsłabsze ogniwo Trójkąta Weimarskiego, składającego się z Polski, Niemiec i Francji. Jednakże Niemcy będą dążyć do tego, by możliwie często włączać Polskę w proces budowy koalicji.
Na drodze do Europy wielu prędkości
Ogólne wyniki naszego badania eksperckiego pokazują wyraźną gotowość wśród urzędników i ekspertów do dyferencjacji integracji. Eksperci zostali poproszeni o podanie pożądanego poziomu aktywności swojego rządu w 16 różnych obszarach. Ponad jedna trzecia respondentów ze wszystkich państw członkowskich preferuje, by robić postępy w grupach w oparciu o własne podstawy prawne lub poprzez nieformalne i dobrowolne koalicje, w przeciwieństwie do wspólnego działania państw członkowskich lub kreowania polityki na poziomie narodowym.
"Unii Europejskiej brakuje grupy państw członkowskich, które są chętne i gotowe do wspólnej pracy i promocji dalszej integracji europejskiej", stwierdza Josef Janning, dyrektor berlińskiego biura ECFR. "By przeciwdziałać obecnym siłom odśrodkowym, państwa członkowskie UE w przyszłości muszą ulec wzmocnieniu poprzez ustrukturyzowane grupy lub nieformalne koalicje chętnych, które będą pracować wspólnie na rzecz hasła »więcej Europy«"
Christel Zunneberg, asystent badawczy projektu "Rethink: Europe" w ECFR dodaje: "zostało jasno powiedziane, że centrum koalicji zależy od obszaru polityki, co oznacza powstanie kilku pól politycznej siły. To utoruje drogę do Europy wielu prędkości".