Xi's army: Reform and loyalty in the PLA
China's military reforms will give it greater capacity to project power overseas and will strengthen political control over the PLA
The Chinese military is under reform and the transformations are designed to give China greater capacity to project power overseas and to strengthen political control over the military. But the reforms run the risk of encountering major resistance.
Chinese commentaries make clear that maintaining political control over the PLA is a major motivation for China's leadership. The establishment of new governance institutions gives the Communist Party even greater control over the PLA. Indeed, the obsession with political control gives ground to those who think that Xi Jinping faced a major challenge from a coalition of rival forces gathering around Bo Xilai and Zhou Yongkang, with support from inside the PLA.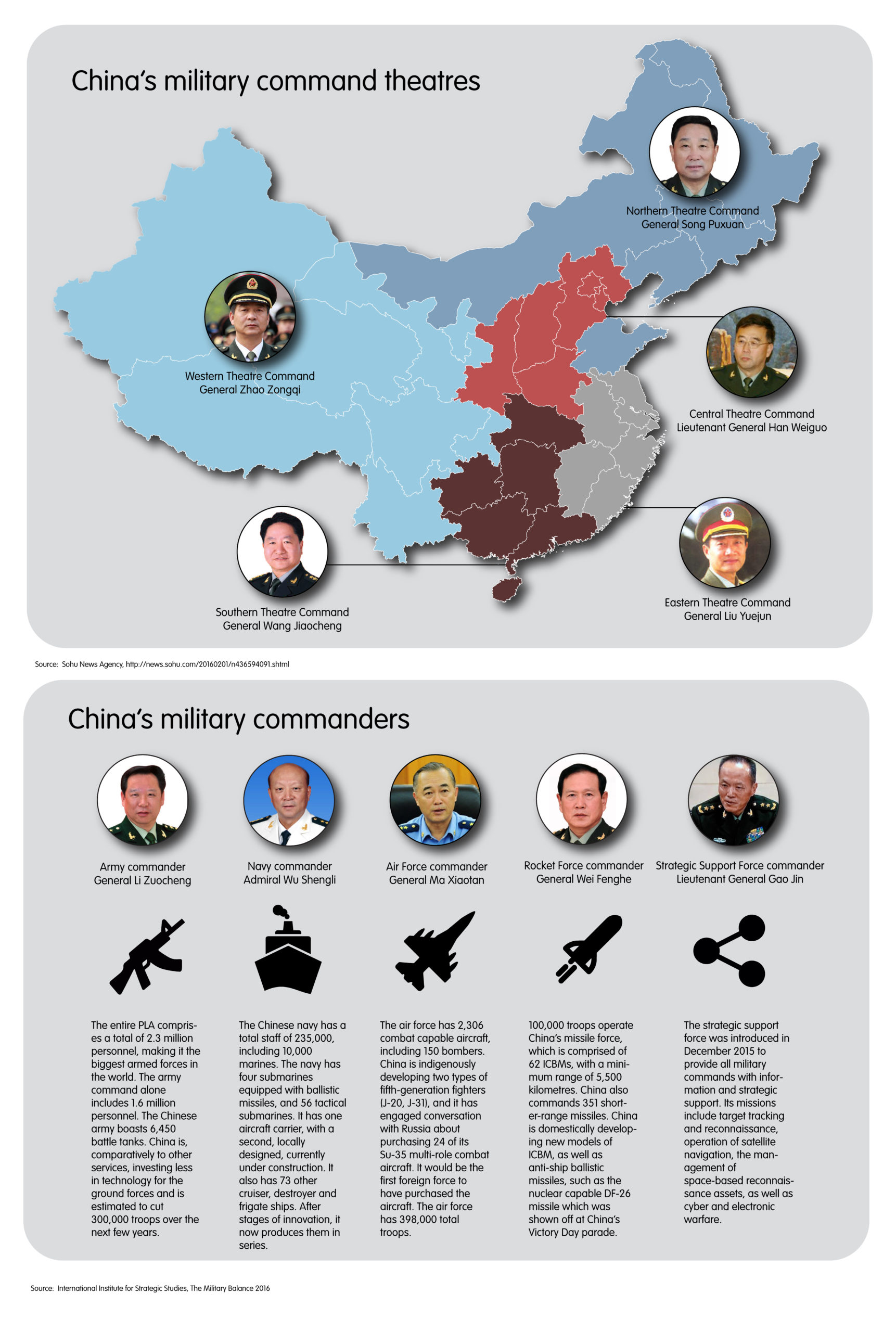 ×
Operationally, the reforms of the PLA are diminishing the long dominance of the land forces within the Chinese armed forces, downgrading them to the same rank than the Air Force and the Navy. The main thrust of China's current military modernisation is towards joint operations, and given Chinese national security priorities in maritime East Asia and the new ambition to protect "overseas interests", the Navy, the Air Force, the Rocket Force and electronic warfare units are increasingly gaining strategic importance. Chinese sources also highlight a few areas of operational weaknesses and vulnerabilities. Intelligence, surveillance and reconnaissance of foreign forces approaching Chinese waters remains a concern, which partly explains the construction of artificial islands and radar facilities in disputed areas of the South China Sea.
However, the sources also point to potential roadblocks linked to vested interests and bureaucratic inertia. Under Chinese President Xi Jinping, public pledges of loyalty in the media by high-ranking officers have become routine. However, loyalty is not always rewarded as highlighted by the unexpected resignation of General Liu Yuan, a prominent ally of Xi Jinping. Liu made numerous enemies in the PLA as a major player in the anti-corruption campaign and Xi had to compromise and let him go in order to push his reforms forward.
Interview with Jérôme Doyon
By loading this audio player, you consent to your personal data being sent to Soundcloud. Soundcloud may combine your data with other information they have collected and may process your data on US servers. Learn more in our privacy policy.
PHA+PGlmcmFtZSBmcmFtZWJvcmRlcj0ibm8iIGhlaWdodD0iMjUwIiBzY3JvbGxpbmc9Im5vIiBzcmM9Imh0dHBzOi8vdy5zb3VuZGNsb3VkLmNvbS9wbGF5ZXIvP3VybD1odHRwcyUzQS8vYXBpLnNvdW5kY2xvdWQuY29tL3RyYWNrcy8yNTc1OTQyODkmIzAzODthdXRvX3BsYXk9ZmFsc2UmIzAzODtoaWRlX3JlbGF0ZWQ9ZmFsc2UmIzAzODtzaG93X2NvbW1lbnRzPXRydWUmIzAzODtzaG93X3VzZXI9dHJ1ZSYjMDM4O3Nob3dfcmVwb3N0cz1mYWxzZSYjMDM4O3Zpc3VhbD10cnVlIj48L2lmcmFtZT4=
You can download the individual articles from this edition of China Analysis below: