Civil war in Yemen: imminent and avoidable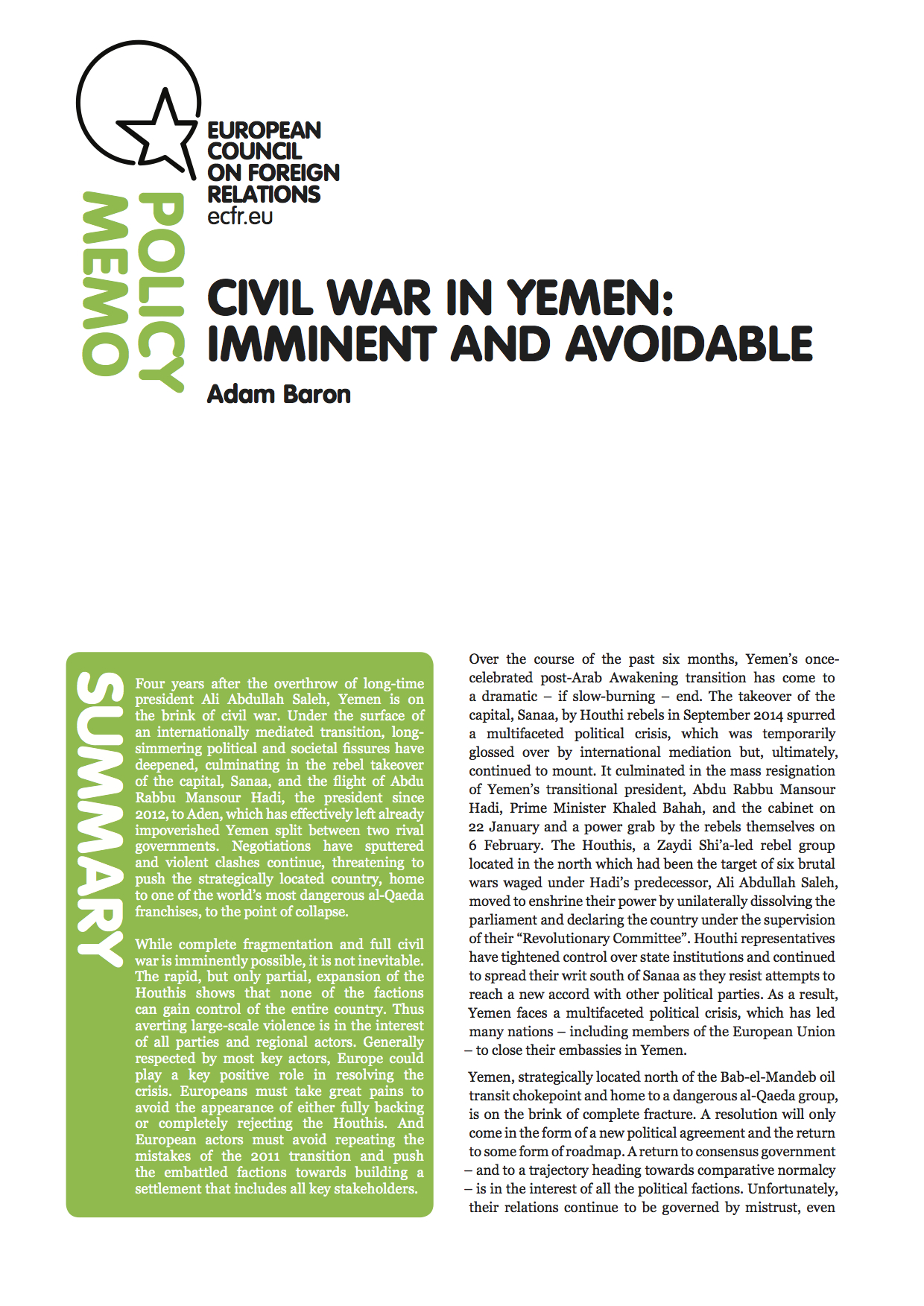 Once hailed by international diplomats as a model for the region, for months now Yemen has appeared to be bursting apart at the seams. As the conflict between the Houthis, who control Sanaa, and the country's transitional president, Abdo Rabbu Mansour Hadi, who has set up an alternative capital in Aden, heats up, Yemen is at deep risk of fracturing, if not descending into civil war—particularly considering the sputtering nature of UN-mediated talks aimed at brokering a new political accord. The dire results of this have been highlighted in recent days, as a series of deadly mosque bombings on Friday have left over 100 Yemenis dead.
This memo by Adam Baron explains that despite the deeply unstable nature of the current situation in Yemen, there is some hope for a deal, as power-sharing remains in all parties' interests. However, any deal will have to overcome the deep spirit of distrust governing relations between Yemen's political parties—and moving power-sharing from paper to reality will require reckoning with the many mistakes and false assumptions that have brought the country's post-Arab Uprising transition to the brink of failure.
"Civil war in Yemen: imminent and avoidable" frames the current crisis as an unsurprising result of the flawed nature of Yemen's transitional roadmap, offering the following advice for avoiding the worst case scenario:
The original sin of the previous deal, namely privileging the traditional elites over all other parties, must be avoided at all costs.

The bedrock of any political deal must be power-sharing and inclusivity, while a roadmap must aid in bringing Yemen out of the malaise fueled by a seemingly endless transition.

While outside parties must remain unbiased and avoid forcing a solution, a united Europe can use political and donor coordination to play a positive role in fostering one.

Regional actors such as Saudi Arabia and Kuwait have the potential to play a similarly positive role —if they do so with the eventual aim of fostering an inclusive solution.
Europe must prepare for the potential fragmentation of Yemen—even if such a possibility remains a worst-case scenario
The author comments, "Viewed positively by the bulk of Yemenis, the European Union and member states can play a key role in moving things towards a positive direction. The European Union will have to act decisively and together and help broker a new transitional path that does not repeat the mistakes of the initial one, by including the real power brokers and reaching out to protesters in the South."