Russia in the grey zones
What role does Russia play in the breakaway regions of Eastern Europe?
Edited by Sophia Pugsley and Fredrik Wesslau
"What's a secure Russian border? One with Russian troops on both sides of it." So goes the old Russian joke. But for at least three of the six states in Eastern Europe, this joke isn't very funny. Russia has carved out territory from Ukraine, Georgia, and Moldova, and maintains troops in these breakaway territories. Russia also exerts control over these territories by providing varying degrees of political, administrative, and financial support to the local de facto authorities.
The "grey zones" of Eastern Europe – Abkhazia, Crimea, the Donbas, Nagorno-Karabakh, South Ossetia, and Transnistria – constitute a central chapter in Moscow's playbook for the neighbourhood. Russia uses them as strategic wedges to put pressure on and destabilise its neighbours. Keeping these unresolved conflicts going, typically by using local proxies, is part of Russia's effort to bring its neighbours within its sphere of influence. Even in Nagorno-Karabakh, where Russia maintains no troops, the stand-off between Armenia and Azerbaijan enables Moscow to project power into the region. The ambiguity and instability inherent in these conflicts is itself a source of influence for Russia.
This strategy has, in many ways, proven effective. The grey zones are obstacles for Georgia and Ukraine to become members of NATO and move closer to the EU. They divert resources and attention from much-needed reform. They also represent a constant security risk as the threat of further Russian incursions hangs heavy over domestic politics and policymaking in Tbilisi and Kyiv; Russia can increase the pressure on these countries by mobilising its troops at will or, in the case of Ukraine, step up its ongoing military campaign.
Russia supports these grey zones to varying degrees and in various ways. In Ukraine, Russia formally annexed Crimea and integrated it as a federal subject. In the Donbas, Russia actively foments war with its own troops, "volunteers", and proxy forces. In Georgia, Moscow has recognised Abkhazia and South Ossetia as independent states and maintains a heavy military presence in both entities. While South Ossetia is highly dependent on Russia, Abkhazia enjoys a modicum of actual independence in its domestic politics. Russia's military and political presence is also felt in Transnistria, but its geographic location means that it cannot rely on Russia alone.
This is the second part of ECFR's grey zones series. The first part sought to illustrate what life was like in the grey zones. This instalment looks at Russia's role in Eastern Europe's grey zones.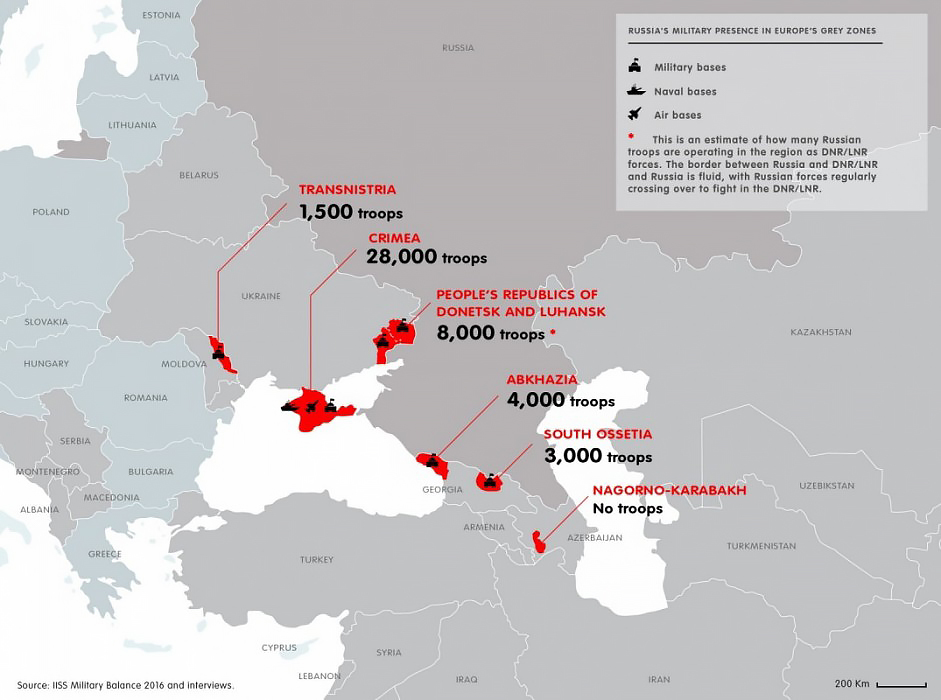 Vladimir Peshkov
Every day in the Donbas is a public holiday. The party never stops. But neither does the war. The public holidays – with masses of soldiers waving flags and marching behind leather-clad bikers who occasionally invite colleagues from other self-declared republics to join in – are for domestic consumption, to divert attention from the fighting and despair. With these festivities, the local authorities are trying to fill the everyday life that they themselves destroyed.
The war in the Donbas is in its third year now and still shows no sign of ending. Some 10,000 people are confirmed as having been killed and more than double that number wounded. The real number is probably much higher. The material destruction has been massive. Russia intervened in the Donbas with the aim of bringing Ukraine into Russia's orbit after the Maidan revolution and President Viktor Yanukovych's flight from the country.
But Moscow misread the Donbas. The local population did not rise up against Kyiv in the name of Novorossiya. The intervention did not lead to the Ukrainian government's collapse. Instead, Russia ended up bogged down in the Donbas fighting a war without a clear exit strategy in sight. Russia now "owns" the Donbas. It continues to provide far-reaching military, political, and material support for its proxies. Without Moscow's support, the People's Republics of Donetsk and Luhansk simply would not exist.
Ridvan Bari Urcosta & Lev Abalkin
All is not well in Crimea. In April this year, at a meeting of the government committee in Sevastopol, members had to sing the Russian national anthem to celebrate Crimea's "return home" to the motherland. But when the lyrics were projected onto a screen, they had been changed to a version that mocked Russia. The parodical text described Russia as insane and slavish. The local prosecutor quickly launched a criminal investigation and a proposal was put forward in the State Duma to make insulting the national anthem a criminal offence.
More than two years have passed since Russia annexed Crimea and started the integration of the peninsula into the Federation. During this time, a typical Russian regional administrative structure has been set up. The integration into Russia's economy is now over. The Russian tricolour now flies on government buildings in place of the Ukrainian flag. The rouble has replaced the hryvnia. It is Moscow that sets the local political agenda now.
Karina Lungu
Transnistria is no place for young people. An economy in crisis. Few job prospects. An aging population. This sliver of land is effectively stuck in Soviet times, no matter how hard it tried to progress. The newest generations dream of leaving – and leaving for Russia.
Transnistria declared its independence from Moldova shortly after the fall of the Soviet Union, and has only continued to exist since then because of Russian money andpeace-keeping forces. It was thanks to soldiers from the Russian 14th Army regiment, stationed in Transnistria, that pro-Transnistrian forces managed to repel Moldovan troops in the 1990–1992 war. Since then, Russia has been considered the guarantor of Transnistria's security and its economic lifeline.
Astamur Achba
It is difficult to overestimate Abkhazia's reliance on Russia. Regardless of politics and the doings of men, geography makes this unbalanced relationship inevitable. To the north of Abkhazia lies the Caucasian mountain range, to the east lies Georgia with which Abkhazia fought a war, and to the south lies the Black Sea. To the northwest lies its protector – Russia.
Russia's affinity with and sympathy for the Abkhaz is intimately tied up with the historically fraught relations between the Abkhaz and the Georgians, as well as Russia's efforts to dominate the South Caucasus. During the Abkhazia war of 1992–1993, kindred peoples of the North Caucasus and volunteers from southern regions of Russia, including Cossacks, came to fight on the side of the Abkhaz against the Georgians. Support also came from Russian volunteers and mercenaries that disagreed with Russian President Boris Yeltsin's support for Georgia and its president at the time – Eduard Shevardnadze. For the 15 years following the war, Russia provided Abkhazia with security assurances vis-à-vis Georgia but also imposed sanctions and, at least formally, maintained a policy of non-recognition.
Fatima Kochieva
South Ossetia is an entity that places great faith in referendums, not least because they tend to lead to pleasingly Soviet-style "99 percent" results. In 1992, there was a vote on whether the territory should integrate into Russia, and in 2006 there was a vote for independence. Both were passed by a landslide majority, and their inherent contradiction never seemed to bother anyone until President Leonid Tibilov announced in 2015 that there would be yet another referendum in the near future on joining Russia. However, there has been an ongoing feud between Tibilov and the parliament speaker Anatoly Bibilov on the timing and phrasing of the referendum question. The two men, widely regarded as the only people with any chance of winning the 2017 presidential election, have very different views on what South Ossetia's relationship with Russia should look like.
While Bibilov has long called for full integration with Russia through a merger with North Ossetia, Tibilov would like to preserve some semblance of independence – and presumably control over financial flows – by having South Ossetia incorporated into Russia as a separate federal subject rather than as part of a "Greater Ossetia". As such, he wanted to hold a referendum to amend the constitution so that it allows the president alone to request incorporation into the Russian Federation.
Stepan Danielyan & Knar Babayan
The unrecognised Nagorno-Karabakh Republic (NKR) has been living in a state of neither peace, nor war for the past 20 years. In 1988, the Armenians of Karabakh took to the streets to demand that Karabakh be reunited with Armenia. After the declaration of independence in 1991, the Azerbaijani-Karabakh war began, and only ended in 1994. However, Karabakh's independence has not yet been recognised by any state, not even Armenia.
A sign on the road from Armenia to Nagorno-Karabakh reads: "A free and independent Artsakh welcomes you". Artsakh is Karabakh's historical name. The next stop on the road is the checkpoint on the border of Karabakh and Armenia where passports are checked. Foreign nationals (including ethnic Armenians who are citizens of other countries) are required to register, and then, before reaching the capital Stepanakert, are obliged to apply to the Ministry of Foreign Affairs for a visa.
---
To protect their anonymity, some authors have used pseudonyms.