Europe's underestimated young voters
There are three reasons why pro-European parties should appeal to youth voters
One of the unwritten rules of European political campaigns is that you should never bet on young voters. On the face of it, they may look like a promising source of support for pro-EU parties. But, so the argument goes, they rarely vote – as seen in the bitter disappointment of the Brexit referendum. And, the inhabitants of Ireland and Cyprus aside, the young constitute only a minor part of Europe's rapidly ageing population: according to Eurostat, just 26 percent citizens of the EU28 are under the age of 25 – while 40 percent are 50 or older.
New research by the European Council on Foreign Relations and YouGov[1] shows that young voters – sometimes called "Generation Z" (those aged 18-24) and "Millennials" (those aged 25-34) – are less likely to vote than other groups. But the difference is not as stark as one might expect. In fact, in most EU countries, more than one-third of young people plan to participate in the May 2019 European Parliament election. The participation rate among young people in Italy is projected to be close to 50 percent – higher than that of all Spanish, German, Polish, or Dutch voters (see Chart 1). And young people can become highly politically engaged when they realise that a vote has high stakes – as early evidence from the April 2019 general election in Spain seems to demonstrate. All in all, it would be a mistake to dismiss the value of the youth vote.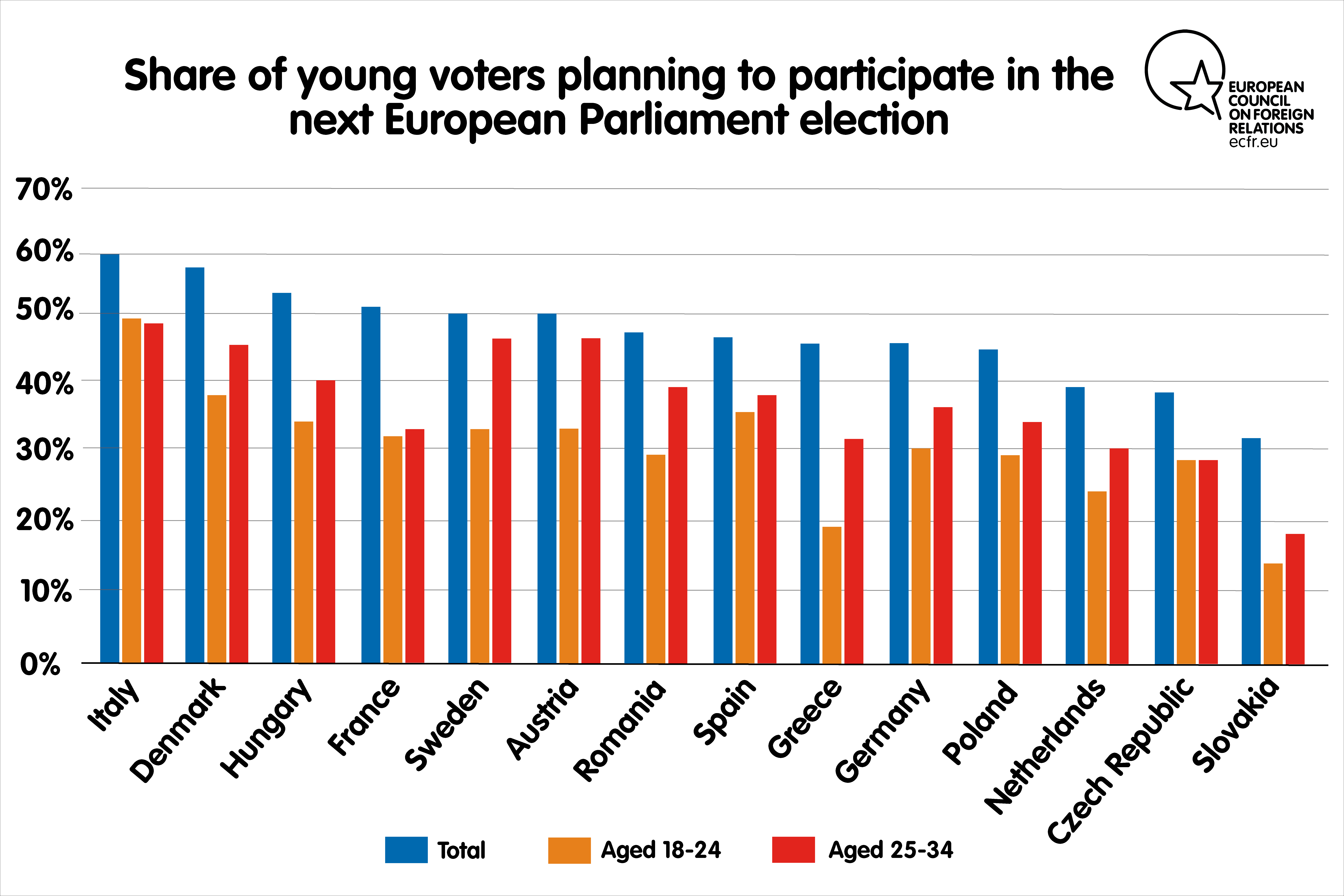 Figures include only people who described themselves as being, on a scale of 0 to 10 measuring whether they plan to vote in the May 2019 European Parliament election, a "9" or a "10".
There are at least three other reasons why pro-European parties should appeal to the young in their campaigns. Firstly, some of these parties have a particularly strong following among young voters. Of course, this is the case for most green parties, including those in Germany, Austria, France, Sweden, and the Netherlands. The same goes for the Czech Pirate Party. These parties are more popular among people in their 20s and 30s than any other age group. In fact, the Czech Pirate Party is twice as popular among the young as it is among all Czech voters. This is also true of many liberal parties, such as the People's Party for Freedom and Democracy and Democrats 66 in the Netherlands, the Free Democratic Party in Germany, the Centre Party in Sweden, and the Danish Social Liberal Party. Equally, mainstream parties – from the Christian Democratic Union/Christian Social Union and the Social Democratic Party in Germany to social democrats in Sweden and Austria, Civic Platform in Poland, and even La République en Marche! in France – usually have a stronger following among older voters. But even these parties are projected to win ten percent or more of the youth vote – hardly a negligible asset.
The second reason to take young voters seriously is that, while they are often relatively green and liberal, this is not always the case. In some countries, a significant number of young people are drawn to far-right or anti-establishment parties. Support for Jobbik is twice as high among Generation Z voters as it is among all Hungarians. The Sweden Democrats, Spain's Vox, far-right nationalists in Poland, and Kotleba – People's Party Our Slovakia perform particularly well among Millennial voters. Elsewhere, far-right parties go to great lengths to boost their popularity among young voters. The leaders of the Sweden Democrats and the Netherlands' Forum for Democracy are both under 40 and seem to have a good understanding of how to communicate with young voters. Marine Le Pen, leader of France's Rassemblement National, appointed 23-year-old Jordan Bardella as the head of the party's list for the May 2019 European Parliament election. So far, Le Pen's party has been fairly unpopular with young French voters – but it may only seek to develop its future support base.
Once mainstream parties realise that their traditional base is shrinking and decide to appeal to young voters, they will no longer have a first mover advantage. For the moment, they often behave as if they assume that voters are radical, idealistic, or politically inactive at a young age, before becoming more conservative, pragmatic, and politically engaged later in life. But there is a growing consensus among social scientists that people's political orientations are set fairly early in life and tend to change little as they age. Generational experiences, such as the migration crisis of 2015 and the millions of job losses in Europe that followed the 2007-2008 financial crisis, may eventually shape the political outlook of many young Europeans. Yet it is also crucial for mainstream parties to think carefully about the way in which they frame such events – and the extent to which they try to translate these events into votes. In this, mainstream parties have often left anti-Europeans unchecked.
The final reason to pay attention to young voters is their importance to rejuvenating Europe's politics and rebuilding trust in the European project. As my colleagues Ivan Krastev, Mark Leonard, and Susi Dennison demonstrated in a recent ECFR report, there is a pervasive sense across the continent that the political system is broken. While much of the problem stems from politics at the national level, Europe is also part of the question. Until recently, support for the European Union was largely based on fear of the past. Now, fear of the future has emerged as a more important factor among Europeans.
It is unsurprising that young voters care more about climate, environment, and air quality, and that they are usually much more pro-European and less convinced that the EU system is broken, than their older counterparts. However, it is striking that many young voters are also nostalgic about an unspecified past (see Chart 2) and that in some countries – including France, Greece, Italy and Spain – more than 20 percent of young voters believe that the future will be worse than the past (see Chart 3). This proportion is smaller than that among older voters but, on balance, still astonishingly large. In a way, these perceptions may reflect two aspects of the same problem: one major reason why nostalgic nationalism is so effective is that pro-European parties have not put forward an inspiring image of the future. In the absence of this, young voters may be easily attracted to an imagined nostalgia for a past they have not experienced first-hand.
And, while many young voters initially appear to be pro-European, their trust in the European project may quickly fade if political parties offer them no credible vision of a hopeful future. They have not experienced the second world war or, in many cases, even the cold war. Thus, they do not naturally accept the notion of the EU as a peace project. For many, their experiences are dominated by job instability, environmental pollution, corrupt administrations, a need to emigrate, and the prospect of a becoming worse off than their parents.
Mainstream political parties do not seem to have noticed their concerns. Instead, they often appear to be happy with gerontocracy and promise to preserve the status quo – a platform with little appeal for young voters. Unless they change tack, parties at Europe's political centre should not be surprised if many young voters across Europe drift towards politicians who promise a quick fix to their problems or the return of a glorious past. Nor should they be surprised if – in a sort of a self-fulfilling prophecy – many young people simply choose to stay at home during the European Parliament election.
Figures include only people who strongly disagree or tend to disagree with the statement "I think the future is going to be better than the past".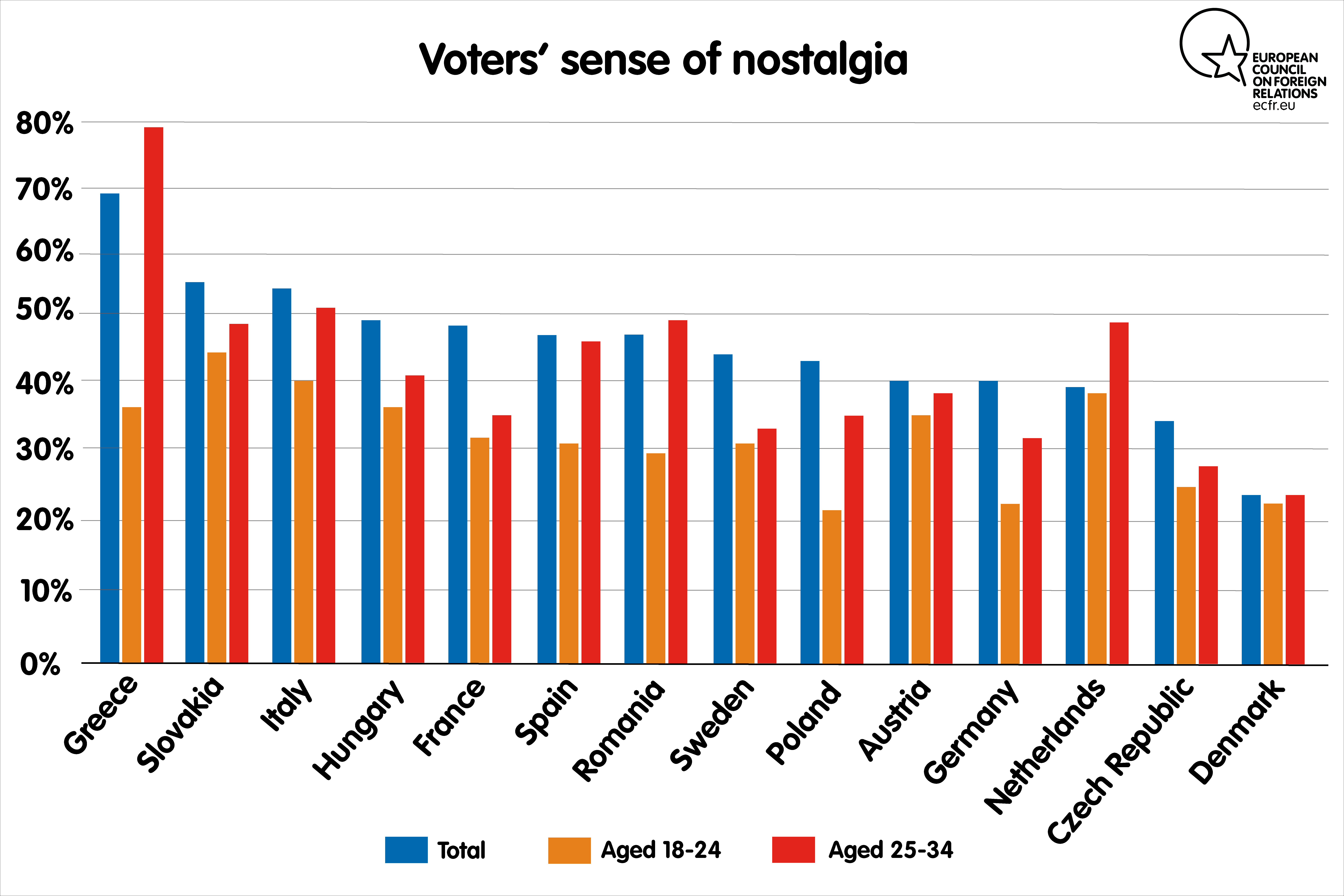 Figures include only people who strongly agree or tend to agree with the statement "I think the past was a better place than where we are now".
---
[1] Data on voter intention and voter engagement used in this commentary is based on the poll conducted by ECFR and YouGov in January and February 2019. Countries polled included: Austria (sample size: 2,000), Czech Republic (1,000), Denmark (2,500), France (5,000), Germany (5,000), Greece (500), Hungary (4,000), Italy (5,000), the Netherlands (2,000), Poland (5,000), Romania (1,000), Slovakia (500), Spain (5,000), and Sweden (4,000). Data on nostalgy and the future are based on the second round of the poll, conducted by ECFR and YouGov in March 2019 with 1,000 samples for each of these 14 countries (apart from Greece and Slovakia, for which the sample size was 500 each).