US-EU Power Audit: wpływ Donalda Trumpa na sojusz transatlantycki
Wygrana Donalda Trumpa w wyborach zmieniła wszystko oprócz podejścia Europejczyków wobec amerykańskiego bezpieczeństwa
Dotychczas Unia Europejska polegała na Stanach Zjednoczonych w dziedzinie bezpieczeństwa. Ale obecnie nowy prezydent Stanów Zjednoczonych, Donald Trump, zupełnie nie angażuje się w sojusz transatlantycki. Jego retoryka wobec Niemiec, NATO i Rosji sugeruje, że utrzymanie obecnego poziomu zaangażowania USA w Europie nie jest pewne. Co gorzej, dzieje się to w kontekście słabnącej od kilku lat obecności USA na całym globie, a zwłaszcza w Europie. Dzisiaj Waszyngton ma mniej żołnierzy stacjonujących za granicą niż kiedykolwiek od 1957 roku, kiedy zaczęto po raz pierwszy takie dane gromadzić.
Nowy raport ECFR stawia pytanie, czy staniemy się świadkami powstania "postamerykańskiej Europy", w której bardziej intensywna europejska integracja obronna zastąpi amerykańskie gwarancje bezpieczeństwa, a państwa europejskie będą zajmować bardziej zdecydowane stanowiska wobec niepopularnych działań USA.
Aby odpowiedzieć na to pytanie, w ramach raportu ECFR EU-US Power Audit zbadano reakcje na prezydenturę Trumpa w całej Europie, które można podzielić na trzy kategorie.
Kilka krajów reprezentuje "efekt antychrysta", w którym obawy wobec Prezydenta Trumpa – a także perspektywa pojawienia się podobnych mu polityków w Europie – dały nową energię umiarkowanym, proeuropejskim siłom politycznym, czego najlepszym przykładem jest nowy prezydent Francji Emmanuel Macron.
Z kolei w niewielkiej liczby państw członkowskich zwycięstwo Trumpa wywołało "efekt Mesjasza", rozzuchwalając antyliberalne siły polityczne. Jest to szczególnie widoczne w krajach, takich jak Węgry i Polska, których rządy sprzeciwiają się imigracji i demokracji.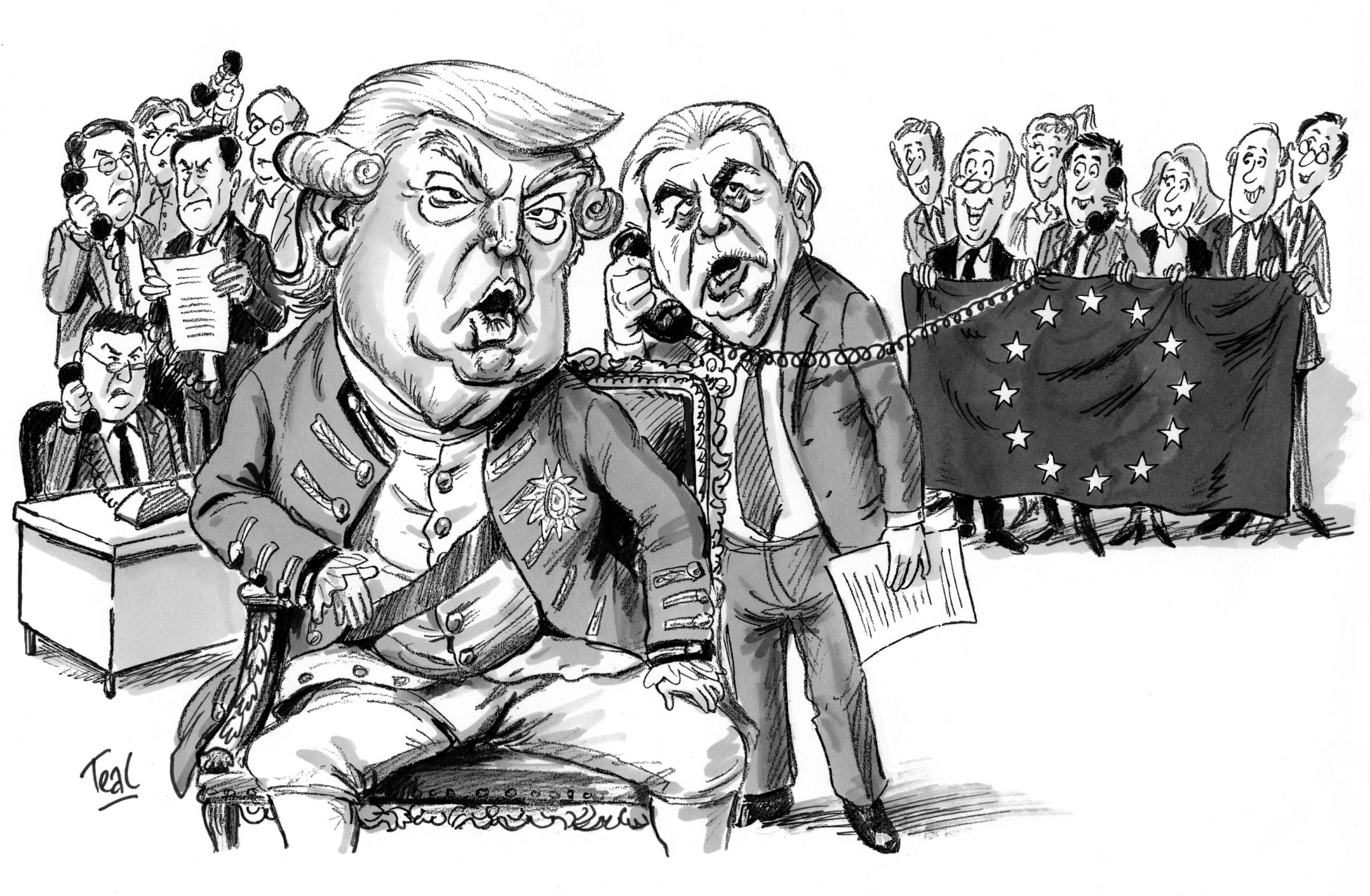 Jednak dominującą w całej Unii Europejskiej reakcją na prezydenturę Trumpa jest "efekt regencji": oczekiwanie, że Trump, podobnie jak "szalony król" Anglii Jerzy III, będzie kierował się radami swoich doradców, Kongresu oraz amerykańskiego społeczeństwa obywatelskiego. Dzięki temu ostatecznie przywrócone zostaną "normalne" relacje w polityce USA i stosunkach transatlantyckich. Mimo słynnego przemówienia Angeli Merkel w Monachium pod strzechą piwnego namiotu, ten instynkt przejawia się szczególnie głęboko w świadomości niemieckiego społeczeństwa.
Z tego powodu, mimo że Donald Trump jest nawet bardziej niepopularny niż Władimir Putin, kontrolowany przez Republikanów i tradycyjnie ospały Kongres USA wyraża większy sprzeciw wobec polityki Trumpa niż kraje europejskie. "Wypowiedziano się ostro, ale Europejczycy nie zmienili znacząco swojego podejścia do USA. Większość z nich nie sięgnęła nawet po te ostre słowa". stwierdza autor raportu Jeremy Shapiro. Ogólnie rzecz biorąc, badanie ECFR pokazuje, że większość państw członkowskich UE preferuje stary układ z Waszyngtonem od niezależności, która pociąga za sobą nieznane zagrożenia.
Jeśli ta bezwładność ma zostać przełamana, rozwiązanie musi wyjść od Niemiec, ale w Europie istnieje głęboka nieufność wobec niemieckiego przywództwa. Dlatego Berlin musi sformować koalicję państw członkowskich, zaczynając od Francji Macrona, które widzą korzyść dla siebie w niemieckim przywództwie. Musi także znaleźć mechanizm do sprawowania tego przywództwa, który przekona partnerów, że Niemcy nie będą nadużywać swojej pozycji. "Europa, której przewodzą Niemcy, jest możliwa", mówi Shapiro, "ale nie jest to prawdopodobne, bo Europejczycy boją się takiej wizji, a Niemcy tak naprawdę jej nie chcą".