Przyszły kształt Europy: jak bardzo elastyczna może być Unia Europejska
Nowe wyniki badań wskazują, że rządy krajów UE wyraźnie zmierzają w kierunku bardziej elastycznej współpracy
Debata na temat elastyczności współpracy trwa od początku istnienia Unii. Oczywiste korzyści wynikające z większej skuteczności kooperacji w mniejszych gronach państw są przeciwstawiane obawom, że elastyczność może podkopać spójność UE i sprzyjać jej dezintegracji.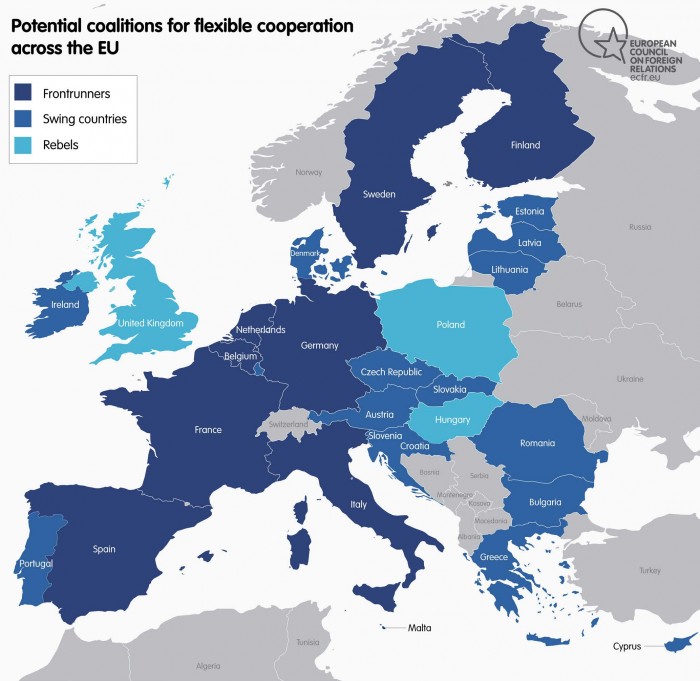 Przez ostatnie ćwierć wieku rządy krajów UE dokładały starań, by zmniejszyć to napięcie poprzez wpisanie zasady elastyczności w traktaty unijne. Ku temu stworzono instrumenty takie jak mechanizm wzmocnionej współpracy oraz mechanizm stałej współpracy strukturalnej. Niemniej jednak oba mechanizmy wiążą się ze sztywną procedurą, w związku z czym były używane bardzo rzadko lub wręcz nigdy, jak w przypadku mechanizmu stałej współpracy strukturalnej.
Jednak gdy Unia musi stawiać czoła wewnętrznym oraz zewnętrznym problemom, które stawiają pod znakiem zapytania jej dalsze istnienie, elastyczna współpraca powróciła jako ważny temat debat nad przyszłym kształtem wspólnoty. Angela Merkel powiedziała w lutym, że "powstanie również Unia Europejska wielu prędkości". Z kolei Przewodniczący Komisji Europejskiej, Jean-Claude Juncker, zaprezentował w marcu Białą Księgę, która zakłada większą elastyczność jako jedną z pięciu potencjalnych dróg dla przyszłej współpracy krajów Unii. Ponadto, 6 marca przywódcy Francji, Niemiec, Włoch oraz Hiszpanii wyrazili przekonanie, że polityka różnych prędkości uspokoi obawy obywateli Unii dotyczące wartości wspólnych działań państw członkowskich.
Wobec tego zespół badaczy ECFR przeprowadził ponad sto wywiadów z przedstawicielami rządów oraz ekspertami pracującymi na uniwersytetach i w think-tankach w 28 krajach członkowskich, by zbadać zmieniające się nastawienie wobec omówionej wyżej koncepcji elastycznej współpracy.
Badanie "Przyszły kształt Europy: jak bardzo elastyczna może być Unia Europejska" wykazuje wyraźną chęć przejścia w stronę bardziej elastycznej kooperacji. Jedynie Dania, Grecja, Cypr oraz Luksemburg wyrażają znaczące zastrzeżenia wobec wzrostu elastyczności współpracy w Unii. Jeżeli chodzi o motywację dla dążenia ku takiej formie współpracy, trzy czwarte państw wskazało na potrzebę pokazania korzyści ze wspólnych europejskich działań w momencie, w którym zaufanie dla UE jest najniższe w historii jej funkcjonowania.
Niemniej jednak sprzeczności pojawiają się, gdy pojawia się potrzeba skonkretyzowania, jak powinna wyglądać bardziej elastyczna współpraca. Pomimo ograniczeń instytucjonalnych, znaczna większość – prawie 80% – badanych opowiada się za "współpracą opartą na mechanizmach przewidzianych przez traktaty unijne". Wydaje się być to związane z potencjałem zasady elastyczności do pogłębiania podziałów i zachowawczym dążeniu do wyboru najmniej kontrowersyjnej formy współpracy.
Inna sprzeczność wynika z tego, że Węgry, Polska oraz Wielka Brytania sprzyjają elastyczności z innych powodów. Podczas gdy pozostałe kraje członkowskie widzą elastyczność jako sposób na odbudowę zaufania do współpracy multilateralnej, ci trzej "buntownicy" widzą ją jako możliwość wykorzystania jej dla ich pragmatycznego, transakcyjnego podejścia wobec Unii oraz do wzmocnienia własnej narodowej suwerenności.
"Myślenie w europejskich stolicach zmienia się" – powiedziała autorka raportu Almut Möller, dyrektor berlińskiego biura ECFR. "Podczas gdy nadchodzący Brexit jest jasnym sygnałem dezintegracji, a presja wewnętrzna i zewnętrzna rośnie, większość krajów członkowskich Unii jest bardziej skłonna do podjęcia ryzyka i obierania różnych prędkości. Zakrawa na ironię, że ta opcja jest teraz coraz bardziej widziana jako droga do przeciwdziałania dezintegracji niż do jej przyspieszenia."
Josef Janning, ekspert ECFR, dodaje, że poza wynikami tego zakończonego w lutym 2017 r. badania, "widoczne są znaki, że wobec rosnącej presji kraje członkowskie mogą nawet być bardziej otwarte na podobne do Schengen inicjatywy pozatraktatowe".