The future shape of Europe
A critical mass of countries agree on the need for more flexible cooperation, but what could it look like?
HOW THE EU CAN BEND WITHOUT BREAKING
Almut Möller & Dina Pardijs
SUMMARY
Faced with internal and external pressures, the EU is increasingly focused on "cooperation" and "deliverables", rather than "integration". ECFR's research shows that a critical mass of countries agree on the need for more flexible cooperation within the EU.
Many member states believe that more flexible cooperation will help to demonstrate the benefits of collective European action, and to overcome policy deadlocks. There is also a clear preference for flexible cooperation under existing EU treaty instruments.
However, there is a group of swing countries that may not be ready to engage in flexible cooperation just yet. This group is concerned about the risk of the EU framework and institutions being hollowed out, and about the dominance of big countries with larger resources.
Hungary, Poland, and the United Kingdom, see flexibility as an opportunity to increase national sovereignty in some areas.
While inclusive approaches are clearly favoured in EU capitals, continued pressure to deliver might push core countries towards even looser types of flexible cooperation in a style reminiscent of Schengen.
introduction
The idea of adopting "flexible" modes of cooperation – as opposed to all countries moving at the same speed on the same issues – is a longstanding subplot in the European story of ever-closer union. Over the years, various, often diffuse, concepts of flexibility – "variable geometry", "Europe of two or multiple speeds", "core Europe", to name just a few catchwords – have made their appearance in the debate on the future shape of Europe in both political and academic circles.[1]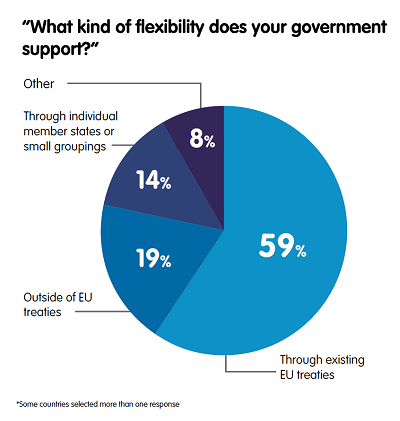 Indeed, out of the notion of "flexibility" have emerged some of the most significant forms of integration in Europe, most notably the eurozone and the Schengen area. While the single currency has been part of the EU's legal framework right from the start, the Schengen model was different. The Schengen agreement on the abolition of border controls was officially established in 1985 separately from the European Economic Community (EEC) by five of its members (the Benelux countries, France, and Germany). The agreement gained traction over time among other members, and the growing Schengen area was incorporated into EU law 12 years later with the Amsterdam treaty.
Now, with the EU facing internal and external pressures which, under some scenarios, imperil its very survival, a new round in the debate over whether flexibility can ease the EU's travails has emerged in European capitals. In February 2017, German Chancellor Angela Merkel told reporters at the Malta Summit: "We certainly learned from the history of the last years, that there will be as well a European Union with different speeds that not all will participate every time in all steps of integration".[2] In early March 2017, European Commission President Jean-Claude Juncker presented a white paper with five options for EU-27 cooperation after Brexit, including one of greater flexibility, to be discussed at the Rome Summit in late March which will commemorate 60 years of the Treaty of Rome.[3] Against the backdrop of unprecedented challenges to European prosperity, security, and cohesion, EU leaders will want to leave a sign of strength by mapping out the way forward. Ahead of Rome, French President François Hollande convened a meeting with his counterparts from Germany, Italy, and Spain in Versailles on 6 March. There, the four leaders expressed their conviction that different speeds would re-establish confidence among EU citizens in the value of collective European action. But modes of flexible cooperation carry with them the risk that they might accelerate disintegration rather than strengthen collective action in core policies. Such an outcome runs directly counter to the main argument for greater flexibility – namely, to deliver better results in a union of ever more voices. It is a more than valid question to ask how much asynchrony an ever-closer union can handle.
In order to guard against such a deleterious course of events, over the past quarter of a century, EU governments have sought to incorporate methods of flexibility into the European treaties themselves. With the general instrument of "enhanced cooperation", and "permanent structured cooperation" (PESCO) in the EU's Common Security and Defence Policy, for example, member states acknowledged flexibility as a feature of the EU's institutional design.
Enhanced cooperation was devised with the Amsterdam Treaty, signed 20 years ago in 1997, and revised in successive treaty reforms in Nice and Lisbon. Enhanced cooperation is stipulated as a procedure whereby a minimum of nine EU countries are allowed to establish advanced cooperation within the EU structures. The framework for the application of enhanced cooperation is rigid: It is only allowed as a means of last resort, not to be applied within exclusive competencies of the union. It needs to: respect the institutional framework of the EU (with a strong role for the European Commission in particular); support the aim of an ever-closer union; be open to all EU countries in principle; and not harm the single market. In this straitjacket, enhanced cooperation has so far been used in the fairly technical areas of divorce law and patents, and property regimes for international couples. Enhanced cooperation on a financial transaction tax has been in development since 2011, but the ten countries cooperating on this  have struggled to come to a final agreement.
PESCO allows a core group of member states to make binding commitments to each other on security and defence, with a more resilient military and security architecture as its aim. It was originally initiated at the European Convention in 2003 to be part of the envisaged European Defence Union. At the time, this group would have consisted of France, Germany, and the United Kingdom. After disagreements on defence spending in this group and the referendum defeat for the European Constitution which meant the end of the Defence Union, a revised version of PESCO was added into the Lisbon treaty. This revised version allows for more space for the member states to decide on the binding commitments, which of them form the group, and the level of investment. However, because of its history, some member states still regard it as a top-down process which lacks clarity about how the groups and criteria are established. So far, PESCO has not been used, but it has recently been put back on the agenda by a group of EU member states.[4]
While the treaty-driven logic of flexibility has so far not lived up to expectations, can Schengen-style approaches – international treaties of EU members concluded outside of the EU framework, with the perspective of a later inclusion and expansion to other EU members – be devised in the present day? Could it strengthen European cooperation in areas where groups of EU members wish to move ahead more quickly than others?
Against this background, the European Council on Foreign Relations' new research project set out to understand attitudes towards different forms of flexible cooperation. This included, in particular, foreign and security policy and the potential use of PESCO in this area. This is a current focus of discussion inside the EU and across member states. ECFR's team of researchers, based in all EU capitals, conducted more than 100 interviews with government officials and experts at universities and think-tanks across the 28 member states. They questioned respondents about member states' attitudes towards different types of flexible cooperation, and explored whether there have been recent changes in attitude regarding the tension between "effective functioning" and "disintegration". They then asked what specific projects in foreign and security policies member states believe are worth exploring. The research on which this publication is based reflects the discussions in European capitals by February 2017.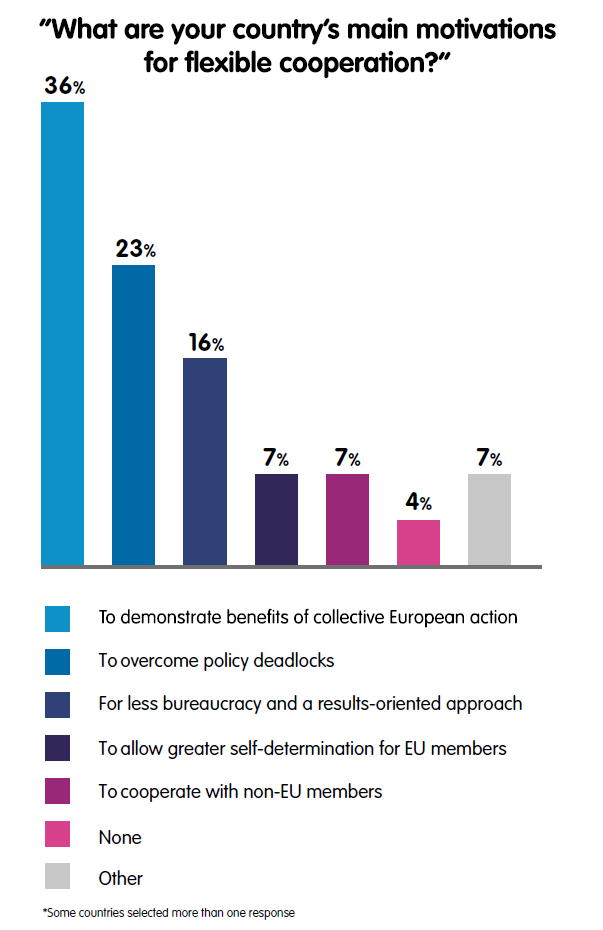 The findings show that overall commitment to EU membership remains strong. In a number of member states it has even intensified in the light of the UK's referendum vote to leave and the election of Donald Trump. The fact that numerous member states are considering a "Europe of different speeds" or a "flexible union" is not necessarily a sign that the EU is in the stages of further disintegration. On the contrary, the research detected no appetite among member state governments, or publics at large, for abandoning the EU as their preferred model of regional order. Instead, out of the crises has comes a search for new ways to improve how the EU works. 
What form of flexibility, therefore, might member states settle on in the current environment? Are there signs of convergence in thinking? Will a core group lead the way in pursuing deeper integration, or cooperation, or will a small number of "rebel" member states use "flexibility" to pursue fragmentation?
This new research by ECFR shows that the will is there but the way remains very much a work in progress. What, in the end, can it tell us about the future shape of Europe?
Attitudes towards flexible union 
The results of the research show that the past decade of crises and the weakening of the collective action of the EU have left their marks. Asked why a member state would embrace a flexible union, respondents in almost three-quarters of countries pointed to the potential to demonstrate the benefits of collective European action to win back trust in the EU. There are two elements to this. On the one hand, member states feel pressure from their citizens to point to the benefits of collective action rather than struggle on with a perception of a union unable to act. On the other hand, political elites themselves have started to question the real added value of collective action if efforts do not yield results.
Thirteen countries surveyed also agreed that "Overcoming deadlocks in relevant policies" was a key factor in the growing interest in a flexible union. In this case, one needs to keep in mind the hugely formative experience of deadlock on EU governments over recent years. Meanwhile, nine member states believed "Focusing on results in a less rigid institutional and legal EU framework" to be relevant on this question.
Having said that, the research reveals that two countries, Denmark and Greece, see no real advantages in flexible cooperation, as they fear further flexibility would lead to more disintegration. This is an attitude that indeed still resonates more widely across EU capitals. These countries see flexible cooperation as too much of a departure from the objective of a cohesive union.
In response to the question of whether their national government believes that opportunities of flexibility outweigh the risks, or the other way around, no clear picture emerges – 12 are undecided, 11 have an overall positive take, and five countries point to the risk of even stronger centrifugal tendencies. A major theme emerging in all three groups when asked what the main risks of flexibility are, is the clear concern about the overall cohesion of an already stretched union. Lastly, there is also a group of four countries (Austria, Hungary, Poland, and the UK) that see flexibility as a way to "restrengthen national sovereignty on core policies".
Austria is a bit of an outlier in this group, as it overall shares the vision of strengthening European integration, including the supranational institutions. However, its motivation for embracing flexibility may be explained by its experience of the refugee crisis. During the crisis Austria found itself very exposed to migration, and could see no joint EU action on the horizon to mitigate that exposure. Indeed, it lasted until Austria took unilateral action. At that time, flexibility, understood as subgroups making decisions on their own (possibly even outside of the treaties, which is an option Austria favours), might have provided an easier way out of the EU deadlock.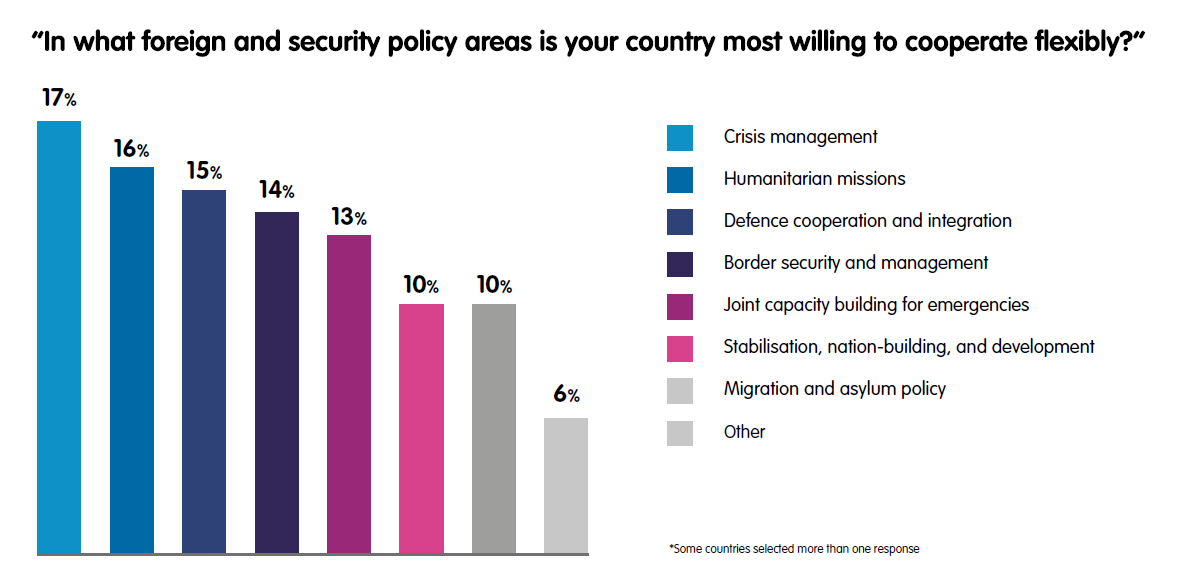 When asked about any recent shifts in attitude towards flexible cooperation, researchers report that a number of capitals feel that, given the ever growing pressure for EU policies to be clearly seen to be delivering results, flexible ways of cooperation – even outside of the EU's institutional framework – should be given a try. This is the message communicated by research on Croatia, Finland, Germany, Italy, Latvia, and Spain. In general, France is sceptical about anything that might undermine the EU and its institutions, particularly given the reality of Brexit. But France nevertheless retains a strong interest in a union that can function effectively and is therefore not closed to looking at new ways of working. The Benelux countries, which were all founding members of the EEC, are also sceptics of flexible cooperation. In their contribution to the Rome Summit in March 2017, they conceded that flexible formations might be necessary in some form in order to ensure progress on areas "that affect member states in different ways".[5]
Analysis of what kind of flexible cooperation European capitals support reveals a contradictory picture. A large majority – almost four-fifths of all countries – favour "cooperation based on instruments provided in the EU treaties". A clear minority believe, at one extreme, that their member state government prefers looser cooperation outside of the EU before pursuing a Schengen-type transfer into the treaties at a later stage. At the other extreme, even fewer sense that their national government's preference is to support the idea of a small coalition of powerful states, or even individual states that could lead initiatives for others to follow.
It is particularly striking that the option that has proved the most legally rigid over recent years – cooperation based on enhanced cooperation or PESCO with all the institutional constraints involved – is still the most preferred type of flexibility.
Of all things, this kind of flexibility has hardly been used and cannot be said to have contributed to what EU capitals currently regard as the main objective: to achieve better performance in the EU framework. 'Delivering', however, is seen as the main objective of flexibility in EU capitals at the moment. So how can this contradiction be explained? EU capitals are well aware of the potentially divisive nature of flexibility, especially when organised outside of the legal framework of the EU. This makes countries want to stick with a 'less flexible flexibility' – one which in their view has the greatest chance of keeping the EU framework intact. At the same time, a number of capitals have come to acknowledge that the current political and security environment has created a ʻSchengen-type' moment to foster cooperation among a group of countries and explore moving ahead outside of the treaty framework.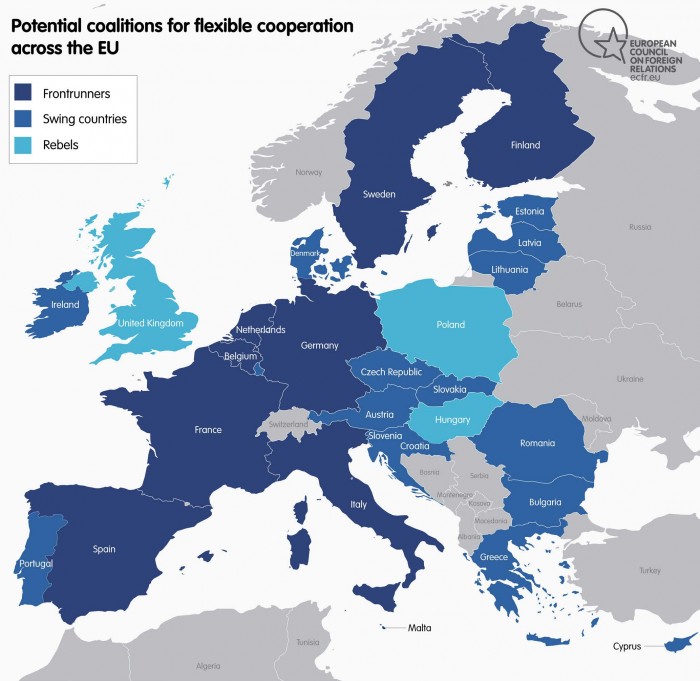 Finally, one recurrent fear among member states is that flexible cooperation could lead to big countries dominating smaller ones thanks to their better resources. This was the main worry in no fewer than 13 countries. Three of these countries specifically cited dominance by Germany (Greece, Estonia and Poland), though perceptions of Germany's role are mixed. For example, in Sweden, Germany is perceived to play a constructive and helpful role. Against this background the recent Versailles summit of France, Germany, Italy, and Spain is remarkable. No doubt the four capitals are well aware of the reservations in other EU countries about being dominated by the larger members. But they nevertheless chose to forge ahead, confident that they constitute a critical mass and that their action is likely to bring others along. While the four leaders stressed that their meeting was an expression of their countries' responsibility to lead the way for Europe now, this latest initiative should also be taken as a tentative warning. In such a gathering, until only recently Poland would have been around the table as a natural invitee, especially since one of the main issues discussed was European security which is of major concern to Warsaw. This can well be understood as a message to Poland, as well as to other capitals at loggerheads with the union's values, that core countries were ready to be more decisive in securing their interests – even if that meant leaving others behind.
Coalitions on flexible union
Across Europe, views on the prospect of a more flexible union are far from united. Overall, one-third of countries believe that flexible cooperation will strengthen European collaboration, while one-fifth fear that it will strengthen centrifugal tendencies. The rest are either sceptical but believe the evolution into flexible cooperation is inevitable, or they are cautiously optimistic but keen to attach conditions to any new forms of cooperation. Can we identify trends of thought among the 28 member states? How might they be grouped together in order for us to better grasp the current range of views?
The frontrunners
The countries that would lead in any newly formed flexible groups are likely to be larger countries that are already fully integrated into all current EU structures. This group would include the founder members of the EEC (apart from Luxembourg) as well as Spain, which joined the recent ʻVersailles group'. The grouping could possibly include some of the affluent Nordic countries (Finland and Sweden) and Austria, too. The findings show that these countries worry less about the dominance of large countries in a flexible union, but they are concerned about the marginalisation of joint EU institutions. All countries which would participate in this leading group are motivated by the chance to overcome deadlocks and demonstrate the benefits of collective action. This group is also relatively more likely to support cooperation outside of the treaties.
What topics would they like to move ahead on? Among these countries there is an emphasis on economics and trade as core areas on which the EU should lead in general. At first, security and defence figure relatively low down on these countries' agenda for the EU. But this situation is quickly changing.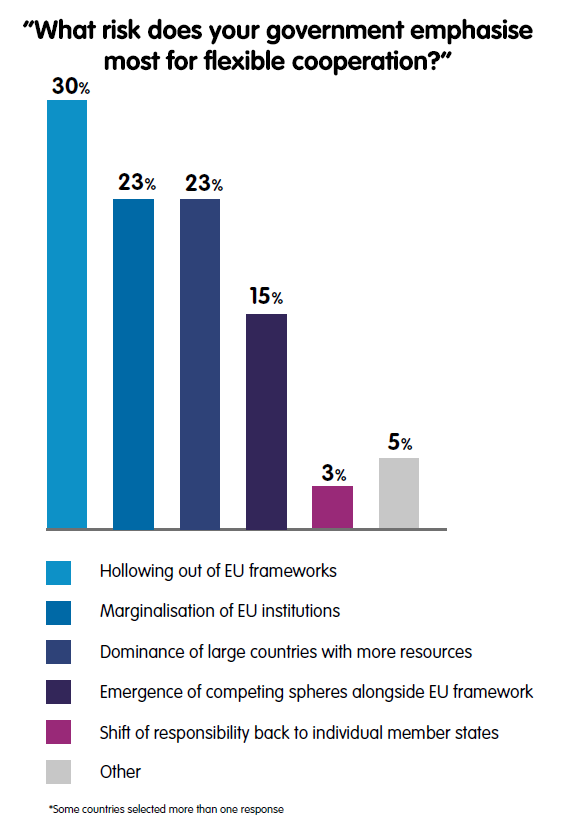 As part of this group, France is an interesting case. It is among the countries that has embraced a stronger role for strengthening the EU in European security and defence. But it argues that there is no time for rigid, treaty-based instruments that put further strain on the EU institutions and which do not pay off in the short term. France is indeed interested in finding ways of bringing about quick wins. It is likely to argue for a political approach and looser modes of flexible cooperation.
Lately, Germany too has become more open to this option, though by tradition and conviction it still prefers a treaty-based approach. As for Spain and Italy – the two remaining Versailles group countries – both have traditionally been more concerned about preserving the EU's institutional framework at large. But they have come to see the need for action in a more urgent way, in particular on European security.
The swing countries
This is a diverse group of countries that may be less able or willing to join the frontrunners in their flexible projects. Less affluent member states, mostly net beneficiaries of the EU, as well as some of the newer and smaller member states, are worried about falling out of flexible groups. On the whole, most members of the group would not block flexible cooperation. But they do not applaud it either. The overwhelming majority of the 28 member states prefer flexible cooperation within the treaties – this is an even more pronounced preference among this group. These countries would be resistant to fundamental changes to the EU's modus operandi.
Most sceptical are Cyprus, Denmark, Greece, Luxembourg and Slovenia, where the overall response to flexible cooperation is the fear it will strengthen centrifugal tendencies in the EU. In Cyprus, the prospect of a homogeneous union is still seen as paramount, and a multispeed Europe is viewed as a possible catalyst for disintegration in Europe. In Denmark, referendum-based opt-outs on security and defence and other issues have shaped the Danish view on EU cooperation. The government in Copenhagen is worried that the EU could fracture even more at this time of crisis if a more specialised and formalised division of the EU occurs – leaving Denmark in an unfavourable position. In Greece, where the economic crisis is always front and centre of the debate about Europe, the main concern is that initiatives leading to a flexible Europe might leave Greece behind at last, as the country fails to apply bailout terms and re-access international markets. The smallest founding member, Luxembourg, is most sceptical of the concept of the flexible union, thinking the union should only address the changes it is facing collectively. In Slovenia, flexible cooperation is seen as an option only to be considered if nothing else works, because of worries about policy coherence and European unity.
Apart from these more outspoken sceptics, there is a large group of countries that is undecided, or currently not in a position to join the "frontrunners". The Portuguese government, for example, does not reject the notion of flexible cooperation outright, but it has made clear that this cannot be a synonym for an EU of the powerful versus an EU of the weak. Like Denmark, Ireland is a country that has taken advantage of the flexible integration pathway in the past, and has experienced enormous economic benefits from its EU membership. The government also expects some more creative integration after Brexit due to its special relationship with the UK. However, it too is sceptical of flexible integration and cooperation becoming the norm rather than the exception. Countries like Croatia, Romania, and Slovakia think flexible cooperation will strengthen European cooperation, but because of their status as relatively new and less economically resilient members they might not be willing or able to lead on flexible projects.
The rebels
The last group is willing to support a flexible union – but for reasons markedly different to those of the leading group. Hungary, Poland, and the UK all look on a restrengthening of national sovereignty as one of the main advantages of more flexible cooperation. All three support doing this outside of the EU treaties. In fact, this situation is likely one of the key drivers behind the desire of the "frontrunners" to push ahead: they want to counter the "rebels".
Hungary aims to increase its role and competitiveness in the EU, avoid passing more sovereignty upwards, and renationalise where it suits its own interest. Flexible cooperation would support this approach. In Poland, the EU is seen as an umbrella that should open and close depending on Polish interests. Both countries are in favour of working methods that sideline the European Commission, as would be the case in cooperation outside of the treaties. Both countries have come into conflict with the European Commission because of domestic developments that clash with EU norms on human rights and democracy.
The UK has always supported the philosophy that the route to a strong EU is through a more flexible union. It has held that flexibility goes hand in hand with restoring sovereignty in key areas. As a large country, and with an overall sceptical attitude towards the EU institutions, the UK is not concerned about EU institutions becoming marginalised or stronger countries dominating others. The only disadvantage it foresees is a more complicated regulatory framework if new initiatives outside of the treaties also require regulations. At present, the UK is already looking at the prospect of a more "flexible union" through the eyes of an EU outsider. In future, the country will probably support flexibility as a means of remaining involved in some EU initiatives as a non-member.
Potential for flexibility in foreign and security policy
Flexible cooperation in European foreign and security policy has risen rapidly up the European agenda because of new challenges to European security, with the loss of the UK, the rise of Donald Trump, and the growing threat posed by Russia. Flexible modes of cooperating in European foreign and security policy remain potentially divisive as they run counter to the formative narrative around EU foreign policy: "to speak with one voice". 
As a response to the prospect of Brexit, and to reiterate their commitment to the EU as a means of strengthening European security, in June and September 2016 France and Germany, at the level of both foreign and defence ministers, pushed jointly for tangible progress on European security and defence.[6] Italy and Spain joined this initiative, expressing their support for these proposals in the autumn of 2016. This was then reflected at EU level in the conclusions of the November 2016 Foreign Affairs Council and the December 2016 European Council, as well as in the European Defence Action Plan in November 2016. The parallel push for real progress in NATO-EU cooperation emanates from Europeans' new drive to take greater responsibility for security on and around the continent. The co-authored paper by French and German defence ministers also refers refers to the prospect of reactivating the dormant instrument of PESCO.[7]  
How do the discussions around PESCO look in European capitals today? In direct relation to PESCO, the results of the research show that three major issues are still live concerns for member states. The first is the need to avoid competition between EU and NATO structures. The second relates to the criteria that member states will have to meet in order to be able to join PESCO. The third is whether the instrument has any added value at all.
As regards the first concern, this is the newest manifestation of the longstanding worry about potential duplication of NATO activities. The research suggested, however, that the latest efforts in EU-NATO cooperation are beginning to pay off. It was felt that the joint push by the High Representative Federica Mogherini and member states to improve EU-NATO cooperation seems, gradually, to be allaying these concerns.
Worries about the inclusiveness – or lack thereof – of PESCO projects continues to be held by many EU countries, especially those that fear they will not meet the criteria of projects and could be left out. The research revealed that a majority of countries (15) hold a view of the instrument that is "overall positive", while nine member states are undecided, and four have an overall sceptical attitude.
The French were the most forcible in raising the question of why Europeans should employ PESCO at all. They continue to point to other ways to cooperate that are less formalised and can produce results much quicker. For France, European cooperation on foreign, security and defence issues is very high on its priority list, but it believes the options for cooperation on this are already extremely flexible. That being said, some member states think that PESCO could represent the first step towards building the structures for a ʻSchengen of defence', with a real transfer of sovereignty in the domain of defence and security.
Germany shares the French stance and has beefed up its engagement both in bilateral activities (such as with the Dutch) and in the NATO framework where Berlin initiated the "Framework Nations Concept" in 2013.[8] But, equally, Germany continues to stick to the EU framework, to show that the EU matters on security and defence, and that it has mechanisms in place to include others. This also reflects the traditional comfort Germany finds in the EU's institutional structures.
Now that it is leaving the EU, the UK does not see PESCO as a priority. Having said that, the findings show that the UK is likely to support measures that strengthen European security and defence cooperation and that might boost European spending on defence. It will, however, oppose anything that duplicates NATO functions or encourages fragmentation in Europe.
In Italy's view, the aim of PESCO should be to decisively reinforce European defence. But it should be in conformity with the treaties, based on multilevel governance, inclusive for any member state that wants to join, and without a veto option for the partnering countries on specific projects.
Among the smaller members, views were varied. Austria, like Germany, favours an inclusive definition of PESCO that would allow all member states to join projects. It has stated several times that PESCO participation criteria should include not only budgetary figures but also deployment figures. On this gauge, Austria performs better when compared to defence spending as a proportion of GDP. Meanwhile, Bulgaria has been taking part in the development of PESCO and considering different options. It has put forward several ideas that reflect its interests, capabilities and experience, such as contributing to a medical hub and further developing battle groups.
For the Netherlands and Portugal, NATO comes first. Portugal in particular is worried about other countries being left behind. Greece, one of the EU countries with the largest investment in defence as part of GDP, has not joined the discussion on PESCO. Given its economic situation and the refugee crisis, Greece is more interested in monetary and border policies.
Conclusion
The potential offered by greater use of flexible cooperation has clearly recaptured the interest of member states across the EU. This shift, articulated by leaders of core EU member states, and identified by this research, is attributable to the rapid changes taking place inside and around the EU. This is true of foreign and security policy in particular, but it is also true of other high-profile areas, like economic and monetary union and migration management.
Furthermore, a critical mass of countries agree not just on the need for more flexible cooperation, but that flexibility would be most successful were it anchored in the treaties, so as to minimise the risk of placing further strain on the EU. This approach is most likely to find favour with a range of member states of differing sizes and interests: from larger, older members that wish to retain a firm rules-based approach, to smaller members worried about being dominated by one country, or being left out.
Having said that, developments since the conclusion of the research may have altered matters yet again. Countries with a traditionally cautious stance on flexibility outside of the EU framework, most notably Germany, Italy, and Spain, are now more open to exploring it.
But challenges remain across the board. France is keen to move forward with 'what works' for the EU as a whole, while countries like Poland and Hungary view flexible approaches less through the lens of strengthening European unity and capacity and more with a view to defending and repatriating national sovereignty.
Nervousness remains among many of the most deeply pro-European countries about the centrifugal risks associated with flexible approaches. This is certainly mirrored in the latest white paper by the European Commission, which is keen to retain the upper hand in the flexibility debate, and keep cooperation within treaty structures.
There is still no consensus about what form flexible cooperation might take. It is perhaps unsurprising, then, that the research shows that any proposals that are taken forward under flexible cooperation are yet to be firmed up.
Indeed, one of the most important aspects of this story only emerges when one takes a step back and considers what this tells us about the EU's evolution and how core member states understand it. It is becoming an organisation whose watchword is increasingly one of 'cooperation' and 'deliverables' rather than 'integration' – despite its foundational goal of 'ever-closer union'.
Because of this, countries like Spain, Italy, and even Germany have started to overcome their aversion to risk vis-à-vis flexibility, and have joined with France to push for a flexible EU on security and defence matters. However, while European leaders pore over criteria for making PESCO a reality, what is now needed is a small number of flagship European projects that member states can set in train and deliver results through. These could rebuild trust among participating member states – and win back faith in the benefit of collective action.
Annex:
PESCO projects: What is on the horizon?
When researchers investigated concrete projects that could be started under PESCO in the coming months, member states provided very few details. By and large, the focus of member state governments is on the precise nature and structure of PESCO activities, rather than the actual issues they could tackle. However, the area under exploration by most member states is crisis management.
Details of nascent projects and preferences for PESCO initiatives are as follows:
Austria has proposed joint procurement of dual-use capabilities (such as helicopters), the establishment of a civil-military command, and joint training activities. Besides the treaty provision related to PESCO, Austria also favours more permanent cooperation in regional formats, such as Central European Defence Cooperation. Austria's red line is providing troops in high-tech combat operations.
Bulgaria would, in theory, support projects in a number of areas (medical hub, logistics/sharing, satellite imagery reading, battlegroups, further development and other regional forms of cooperation). Bulgaria has been contributing medical staff and equipment for operations in Mali and other missions, with medical evacuation from other countries. Logistics and satellite imagery are other areas in which the country wants to participate in the future. The government supports modular cooperation and currently has several projects under consideration, including participating in and further developing battlegroups, i.e. the Balkan Battle Group (HELBROC) of Greece, Bulgaria, Romania, and Cyprus. Sofia has considered joining or leading another battlegroup, and has discussed this with EU partners, but no concrete steps have been taken yet.
Czechia would be open to participating in coordination of acquisitions, in joint European Defence Agency projects, and joint planning capacities. It would also support the creation of joint headquarters for European defence operations.
Estonia considers R&D, military operations and missions, civil-military cooperation, crisis management, and terrorism, as areas of potential cooperation.
Finland has been somewhat frustrated at the slow progress on the EU's security and defence policy and welcomes the possibility of making more rapid progress. For Finland, areas of particular interest are the coordination of defence planning cycles, security of supply, and defence market policy.
Germany is mostly concerned with crisis management, even though it considers that defence matters should remain largely with NATO. The co-authored paper by the French and German defence ministers paper examination of: strategic transport capabilities; European logistical hubs; situational awareness; and training.
Ireland's policy of neutrality makes it politically sensitive to push for PESCO. Having said that, the Irish government feels there should be a focus on promoting what can be delivered, and then actually delivering on it. There are certainly aspects of PESCO where Ireland would see significant technical and practical advantages – particularly when it comes to an enhanced pooling of resources for key Irish interests such as peacekeeping and crisis management.
Latvia is interested in: pursuing joint procurements, especially in the military domain; developing informational networks for sharing information regarding cyber security and terrorism; cooperating on law enforcement authorities; strengthening the external and coast borders; and working with third countries on immigration matters.
Romania is looking at joint acquisition programmes, joint training activities and the provision of maintenance and participation in EU battle groups.
---