The Future of Schengen
In the midst of a Schengen crisis, how do Europe's member states see the future of Europe's visa-free travel area?
The seemingly endless queues at border crossings, immigration officials studying your documents, the restrictions to movement within Europe. These are all things which, for many Europeans, belong to either a distant memory of a pre-Schengen Europe, or travel to far off places.
But in the context of the refugee crisis, the terrorist attacks that the EU has suffered, and the Brexit debate, attitudes to the Schengen zone – previously one of the central pillars of the EU that member states were keen to protect at all costs – have changed. We are in a situation where member states have acted either unilaterally or in groups to alter the level of free movement in this borderless area. Factors such as the refugee crisis and terror attacks in Europe have led several member states to reinstate border controls – including between Sweden and Denmark whose border-free zone long pre-dates Schengen.
We have drifted so far away from the tenets of a border free Europe outlined in Schengen, that the European Commission has written a "Roadmap back to Schengen". The document, penned in March 2016, would have been unthinkable even six months ago.
Listen: ECFR's Susi Dennison explores the findings of our research on the future of Schengen
To explore how this "Schengen crisis" is affecting different parts of the European Union, we asked our group of 28 associate researchers from across each EU member state, to look into the actions and perceptions around Schengen in their own country. This briefing is based on the research they have carried out, including interviews with policy makers and experts. Our researchers have aimed to look beyond official government statements to evaluate both public opinion as well as policy makers and the views of those in government in order to understand the realistic prospects for the future of Schengen.
European attitudes to Schengen
Despite the headlines, which do not make for pleasant reading, the suspension of Schengen in some countries has not caused member states to give up on its principles or become defeatist about the prospect of reinstating them. Our research has shown that 22 of the 28 member states are confident that the Schengen system will survive the summer. The six countries that are more doubtful about the future of Schengen admit that there is a very small chance of the system collapsing, even if the refugee crisis worsens considerably. In official statements, European governments have continuously stressed that fully reinstating Schengen is important to them. Even the four heads of state of the Visegrad Four (Czech Republic, Hungary, Poland and Slovakia), countries that have often resisted agreed European policy positions throughout the refugee crisis, stated that "Schengen remains a key practical and symbolic achievement of European integration. We reaffirm our determination to preserve Schengen so that European citizens and businesses continue to fully enjoy its benefits".
---
Darker colours indicate primary concerns, lighter colours indicate second tier concerns
---
What makes the allegiance to Schengen so strong among Europeans? We found that in 13 countries, protecting the principle of free movement is the most important issue regarding how member states feel about the future of Schengen. Second on the list were two tied results, the economic benefit of the Schengen zone, and the ability of Schengen to help manage migration flows. These two factors were deemed the most important issue by five and seven member states respectively. All three of these issues are closely linked, and, in fact, intertwined. The economic benefits gained through freedom of movement would not be possible without the Schengen system, and economic problems and security problems are directly tied to the inability of the EU to manage border flows. Although security concerns were not the number one issue for many member states, they were included in the top two or three for most of them.
Contrary to the fears that have been voiced about cross border terrorism in the wake of the Paris and Brussels attacks, and the challenges of tackling it in a borderless zone, member states continue to view Schengen as a benefit in security terms, indicating that there is still significant buy-in for the idea that terrorism is a European threat which is best tackled together. This underlines the sense that although border controls have been reinstalled over the past few months, there is a fundamental belief that these are temporary, not permanent changes, even if the route back to the old Schengen is difficult to see at the moment.
Economics of Schengen
Unity still remains the long term goal for Schengen members for practical reasons, rather than because it is an enduring European ideal. When we asked our experts to choose from a list of the main reasons why Schengen mattered to their member state, economic reasons – particularly the costs associated with not having Schengen – were paramount. Only our Cyprus researcher mentioned a loss of European identity as its second consideration, and Luxembourg named it as a third-tier concern. It is clear that the economic effects of a suspension to the Schengen system are destructive for countries that have built their markets on the assumption of free trade and movement. Time is money, and border controls make commuting and cross-border transport a significant cost factor. The European Commission has estimated that if Schengen were to fall apart the waiting time for lorries could result in an increase of up to €7.5 billion each year in direct costs. Late last year the Danish railway company DSB announced that the border controls at the Danish-Swedish borders was costing the company "a million [DKK] each day" (over €13,000). Commuters and other travellers could see additional costs amount to €5.2 billion per year. For example, 2.1 percent of the Hungarian workforce commutes to work abroad, mainly to Austria and Slovakia, and 40,000 Italian border workers cross over to other countries on a daily basis. If border controls were to be reintroduced between these countries, the impact on national economies would be huge. Other additional costs would be incurred as a result of a likely decline in intra-Schengen tourist trips, and because of the resources required to operate border controls.
Austria: Daily losses of between € 2.5 and €8.5 million are expected if all Austrian borders were locked down
Belgium: In 2017, Belgium's main trading partners – Germany, France and the Netherlands – will account for 50% of its total exports
Bulgaria: 65% of Bulgarians support more decisions about migration to be taken at the EU level
Croatia: in the case of stricter border controls, most damage expected for tourism, which represents 10.4% of GDP
Cyprus: After Greece, Cyprus' biggest export partners are non-Schengen countries – UK (10.2%, Israel (5.4%) and US (4.2%)
Czech Republic: A 5% drop in exports of sensitive commodities such as foodstuffs would mean an annual loss of 0.25% of GDP
Denmark: The Railway company DSB stated that border controls taking place at the Danish-Swedish border were costing the company over €134,000 a day
Estonia: According to polls, 59% people in Estonia are ready to sacrifice Schengen to reduce the perceived threats related to uncontrolled refugee flows
Finland: 58 % of Finns are ready to reinstate border controls according to a January 2016 poll
France: The closing of borders would cost €1 billion per year to the French economy, and €10 billion per year after ten years due to the reduction of French trade with its European neighbours
Germany: The re-introduction of permanent border controls would lead to an estimated growth loss of €77 billion in the country between now and 2025
Greece: Holiday reservations on the island of Kos, where a hot-spot has been constructed, have reduced by 60% since the beginning of the refugee crisis
Hungary: 2.1% of the Hungarian workforce commutes across national borders to Austria and Slovakia
Ireland: €4 million was recently spent to upgrade systems to access to security alerts offered by the Schengen Information System
Italy: Between 2016 and 2025, Italy would lose an estimated €50 billion if Schengen were suspended
Latvia: In a recent poll, only 23% of the respondents agreed that Latvia should contribute financially in order to support Turkey's refugee return scheme
Lithuania: According to poll held after Paris attacks, 86% of Lithuanians believe that refugees may contribute to the rising level of crime
Luxembourg: 56% of trucks travelling through Europe stop in or make a detour through Luxembourg to get cheaper petrol
Malta: Malta's largest export partners are Germany 20.1%, France 12.8%, Italy 9.3%, Libya 6.7%, UK 6.6%
The Netherlands: By 2020, resumed border controls would have cost the Netherlands an estimated €9 billion if they were put in place
Poland: Approximately 1.3 million Poles live and work in the Schengen countries
Portugal: 83% of Portugese people support principle of free movement
Romania: Close to €1 billion has been spent on perfecting the country's border system to be able to join Schengen
Slovakia: Since joining EU, Slovakia's exports have doubled, mainly to Germany, the Czech Republic, and Poland
Slovenia: If Schengen were suspended, one hour of additional waiting time on the border would result in at least €8 million lost for the Slovenian transport economy per year
Spain: According to the most negative predictions, the annual growth loss would amount €140.8m in the next decade
Sweden: At the Oresund bridge between Sweden and Denmark, over 15,000 commuters now go through two identification points every day
United Kingdom: A price increase of 1% because of the collapse of Schengen would cost the UK €87 billion by 2025
A report from the Bertelsmann Foundation estimated that the reintroduction of permanent border controls would lead to a growth loss of €77 billion for Germany between 2016 and 2025, and €470 billion in total for the EU. More facts about the economic impact if Schengen were to be dissolved can be found in the black boxes accompanying this text.
Border controls are back
Despite enthusiasm for the concept of Schengen, and the clear picture about the economic impact of its suspension, border checks are currently ongoing in six EU member states (Austria, Belgium, Denmark, France, Germany, and Sweden). The nature of these border controls are as follows:
These six EU countries have had to deal with extreme situations in their countries, and the Schengen agreement does in fact provide for room for temporary checks. According to the Schengen agreement, temporary checks should only be put in place if there is a serious threat to public policy, or situation of internal stability has presented itself. Schengen states that these measures should only be used in exceptional circumstances and in proportion to the threat that is posed. Schengen-area checks in Hungary, Malta and Slovenia, which were put in place in the last quarter of 2015 in response to the refugee crisis, have since been discontinued. But the fact that some checks remain in a semi-permanent state damages the image of Schengen as a pillar of European cooperation. In our research, we did not find a clear link between countries that doubt the strength of Schengen, countries that see reinstating border controls as a potentially viable option in the future, and those who currently have border checks. There seems to be a disconnect for policy makers between what works best for the EU as a whole, and what effect the actions of their particular country has on the system. This preference for the national interest in the short run, despite the costs, can be explained by a key factor: public opinion.
Understanding public opinion
Surprisingly, the three countries where security concerns appear to be the primary consideration in relation to Schengen, are not the countries that have had to deal with the largest influx of migrants. The UK has largely been not been affected as much as others have by the refugee crisis, having only resettled a small number of refugees in a controlled manner. Nonetheless it cites security as a key concern. Malta too, despite being a frontier state, has been shielded by Italian FRONTEX and EUNAVFOR naval forces in recent years, and has seen a drop of roughly 85 percent in the arrival of irregular migrants over the past two years. Finally, in Poland, Prime Minister Beata Szydło withdrew her commitment to take in refugees after the Brussels attacks also citing economic concerns. The country has had just over 10,000 asylum applications in 2015, compared to over 174,000 in Hungary and more than twice that in Germany.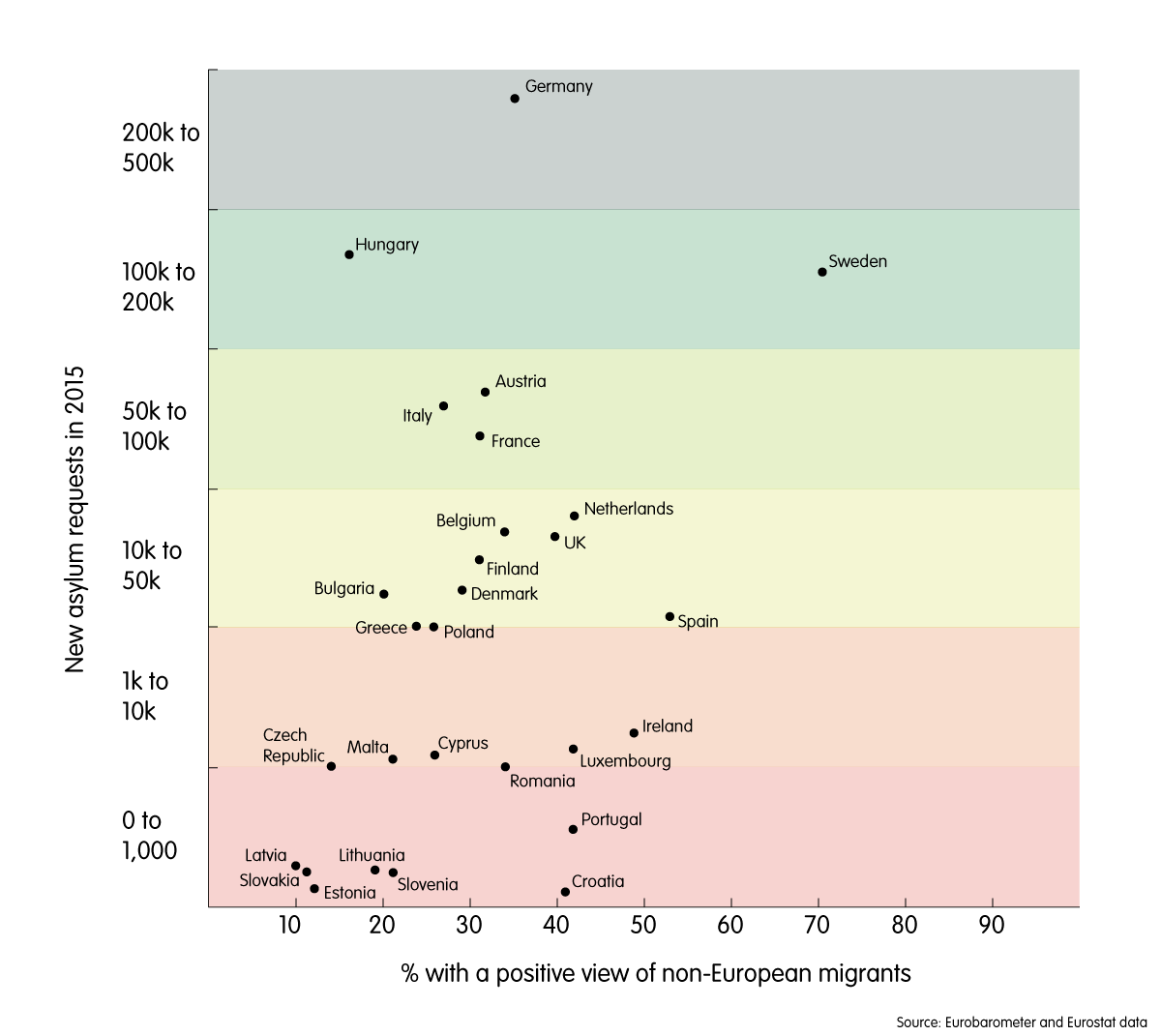 The "fear of the unknown" is a recurring theme in public opinion polls. In Lithuania, which received 275 asylum applications in 2015, a poll by the Lithuanian Social Research Centre found that over 80 percent of the population believes that refugees may contribute to a rising level of crime and social unrest in Lithuania. Polling on another question indicated that 70 percent of Lithuanians feel that there are enough refugees in their country and that no more should be allowed in. In Estonia, where 225 people applied for asylum last year, 59 percent of the population is ready to give up the Schengen agreement to reduce perceived threats related to uncontrolled refugee flows. In comparison, in a German poll in March 2016, indicated that the support for border controls had declined to 49 percent from 53 percent in February.
Public opinion is always an unpredictable factor. But as Europe sees extreme parties gaining more power and traction in countries like Denmark, Finland, and most recently Slovakia, this will have a more direct influence on decision-making and the future of a unified policy on border controls.
Conclusion
Even though the Schengen system is currently under severe pressure, member states remain strongly attached to both the ideal of a border-free EU and its benefits. They want to ensure that the principle of free movement is protected for their own citizens, and want to keep Schengen for the economic benefits it provides. What's more, they still believe in the idea of collective security through cross border cooperation in the EU.
The challenge now is to move forward from the status quo, to recreate the behaviours needed to make Schengen function properly again. The present climate of immediate threat is leading Europeans down a path which ultimately risks a blind dismantling of the border free zone on a permanent basis. This research should serve as a wake-up call for European leaders on the continued importance of Schengen to citizens across the EU, and the demand for policy solutions to be implemented on the refugee crisis and security issues. Only by doing this will it be possible to restore the confidence needed to make open borders work again.
You can read more about our network of Associate Researchers here.This ECFR Flash Scorecard forms part of the Rethink: Europe project, a joint initiative of ECFR and Stiftung Mercator."
Go to the European Power Programme page
Go to Rethink:Europe page