Japan-China relations: confrontation with a smile
China's willingness to finally downplay confrontation with Japan demonstrates the magnitude of the Trump shock in Beijing
The relationship between China and Japan has entered a period of détente after years of confrontation. According to Japanese Prime Minister Shinzo Abe, his country's relations with China have finally returned to a normal track. Meanwhile, Chinese President Xi Jinping speaks of positive momentum in Beijing's interactions with Tokyo. Following the full resumption of regular high-level political contact between the sides, Abe will visit Beijing in October – seven years after the last bilateral summit in China – to commemorate the 40th anniversary of the Treaty of Peace and Friendship. There are even rumors that the leaders will sign a fifth political document to give some additional oxygen to the current dynamic.
This détente is almost entirely a collateral effect of the Trump administration's assault on China – a moment of Chinese weakness that Japan has exploited. The center of gravity in China's foreign policy is shifting away from promoting the Belt and Road Initiative and toward countering the emerging (albeit loose) coalition that seeks to weaken the country's economy, prevent it from acquiring foreign technology, and undermine its global influence. For Tokyo, this opens space to strengthen business ties with China at a time when the threat of American tariffs on cars could make the Chinese market even more strategically important to the Japanese automobile industry. After all, Japan's exports to China increased by 20.5 percent in 2017. And an appeased interaction with China would ease some of the pressure on Japanese foreign policy.
But while China and Japan want to show that they are setting aside their differences to focus on common interests, strategic competition and mistrust still pervade every issue that defines their relationship. Those issues include territorial disputes over the Diaoyu/Senkaku Islands and the South China Sea, technology competition, and even rivalry over trade and international connectivity projects. There is no indication that any of these issues will become significantly less contentious. At best, the two sides hope to contain the destructive potential of each disagreement without ending the détente. The only issue where Japan continues to exercise restraint is Taiwan and cross-straits relations. Despite its sympathies for the administration of Taiwanese President Tsai Ing-wen and the Democratic Progressive Party, the Abe government refrains from giving Taiwan diplomatic breathing space or deepening security cooperation with the country.
Although the Japan Maritime Self-Defense Force regularly exercises in the South China Sea, it does not directly challenge the Chinese-built artificial features on the Spratly Islands. Politically, these exercises are designed to signal that Japan will never recognize Beijing's so-called nine-dash line as the border delimiting China's internal waters. Japan's approach is consistent with the 2016 arbitration judgment that found the nine-dash line incompatible with the United Nations Convention on the Law of the Sea, meaning that it provides no legal basis for a territorial claim. Militarily, the Maritime Self-Defense Force's disclosure of its recent anti-submarine-warfare exercise accords with a central tenet of the Japanese strategy in the South China Sea: maintaining a naval balance of power with China. The exercise involved the helicopter carrier Kaga, an Oyashio-class submarine, and two destroyers.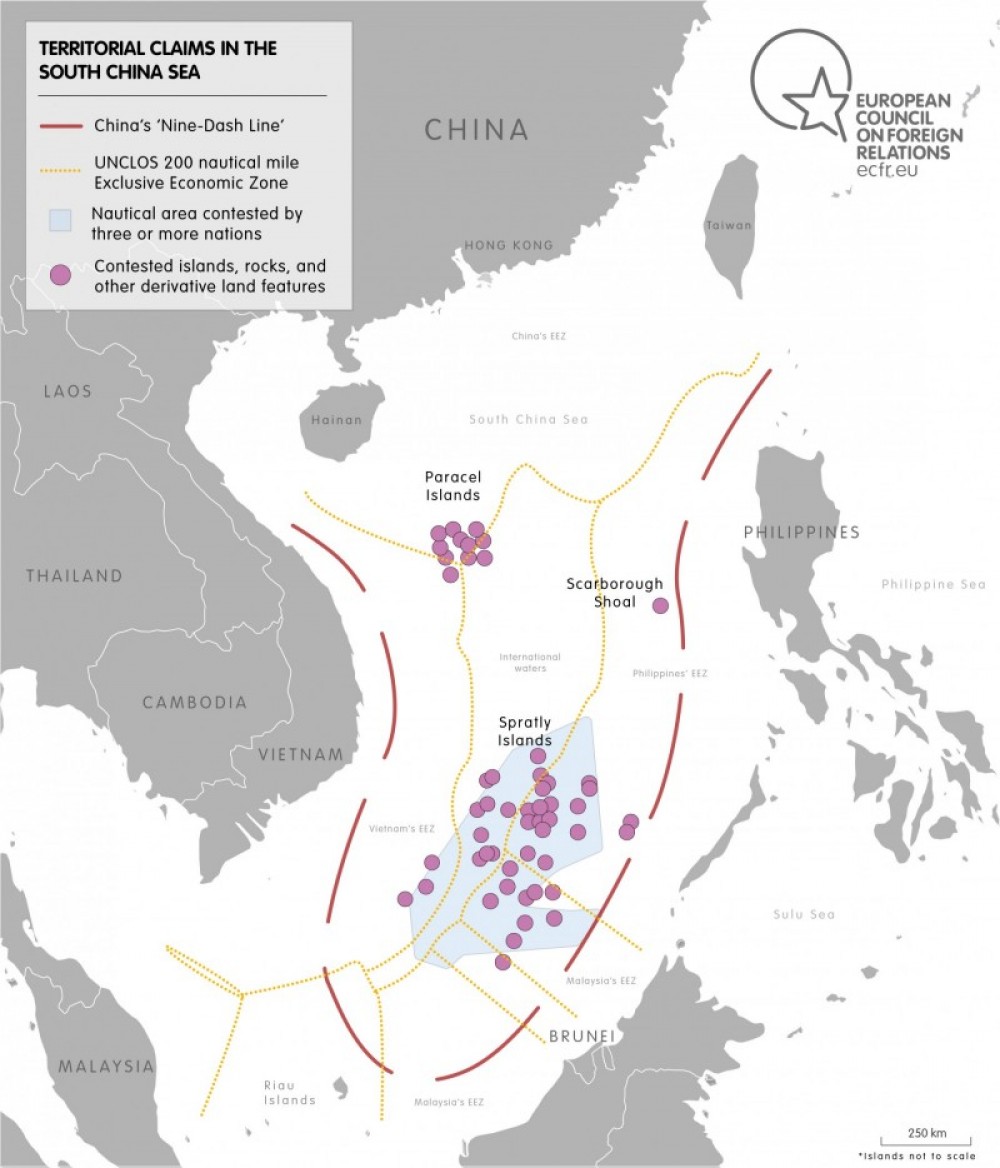 In the East China Sea, the Japanese Coast Guard continually monitors its Chinese counterpart. Throughout 2018, this Chinese paramilitary organisation has deployed an average of seven to eight ships per month in the territorial seas of the Diaoyus/Senkakus, while maintaining an almost permanent presence in the contiguous zone there. In August, following a decade of intermittent negotiations, Japan and China signed the Maritime and Aerial Communication Mechanism. Their agreement on this confidence-building and crisis-management initiative is encouraging, but not entirely practical. Under the mechanism, the sides are required to respond to communication requests, but only 48 hours after an incident. The annual meeting to review the arrangement's implementation should allow Japanese and Chinese military officers to exchange information and perspectives on dangerous interactions at sea and in the air. Yet at sea, only the multilateral Code for Unplanned Encounters at Sea works effectively. So far, the mechanism conceived to help manage Sino-Japanese tensions has been a formal exercise deprived of substance.
On the economic front, the relationship between Tokyo and Beijing also tilts toward confrontation. Japan often leads international efforts to restrict China's acquisition of advanced technology, an area that will define the course of great power competition in the coming years. Japan's approach to this issue involves a mixture of strictly enforced regulations at home and ambitious outreach abroad. And while trade interests sometimes bring China and Japan together, Japanese Trade Minister Hiroshige Seko recently joined the United States and European Union in signing a statement of concern addressing the "non market-oriented policies and practices of third countries." Coordinated countermeasures against China may follow. Rather than cooperating with China to safeguard free trade and multilateralism, Japan's priority is trilateral coordination with the United States and Europe.
Paying lip service to the Belt and Road Initiative may win Japan some business contracts on infrastructure projects involving Chinese companies. A newly established Sino-Japanese committee is considering plans to build a high-speed railway system in Thailand – a project that until recently was a symbol of the competition between the two countries.
A healthier mixture of cooperation and competition between China and Japan would benefit Asia, especially if it is driven by business interests and market considerations. However, Japanese leaders think of such infrastructure projects in terms of strategic interests and the balance of influence. For now, Japan remains the only country that consistently dares to compete with China for connectivity projects, offering an alternative to countries in the developing world.
China's willingness to finally downplay confrontation with Japan demonstrates the magnitude of the Trump shock in Beijing. China's protests of Japan's recent exercise in the South China Sea were surprisingly low-key compared to what they would have been only a few years ago. But China's flexibility is tactical and has its limits. Mutual business interests are very unlikely to truly transform the relationship.
This article appeared originally on 28 September in RealClearWorld.