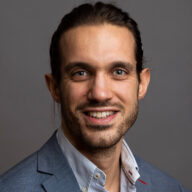 Panos Alexopoulos
Manager, Strategic Partnerships
Languages
English, Greek, French, German, Spanish
Biography
Panos Alexopoulos is a development manager at the European Council on Foreign Relations, based in the Berlin Office. He supports our Wider Europe Programme as well as the Paris, Rome, Sofia and Warsaw Office.
Prior to joining ECFR, Alexopoulos worked as a development adviser and fundraiser for the Bodossaki Foundation, which promotes education, health, protection of the environment and the empowerment of civil society across Greece and its grantmaking as well as grant-seeking. Before, he also worked as a consultant for the Economic and Social Council of Greece (ESC) in Athens. He has also gained professional experience at the Secretariat-General of the European Commission in Brussels.
Alexopoulos studied Political Science and Public Administration at the University of Athens, he also holds an MA in European Studies from the College of Europe in Warsaw and an MA of Public Policy from the Hertie School of Governance in Berlin.