Risks and strategic choices in front of Bulgaria
The event discussed the foreign affairs of the EU in the context of the situations in Ukraine and the Middle East as well as the willingness of Bulgaria to re-evaluate the threats in the changed strategical situation.
Guests
Speakers:
Velizar Shalamanov, Minister of Defence of Bulgaria
Stefan Popov, Director, RiskMonitor
Iliyan Vassilev, Innovative Energy Solutions
Vasil Garnizov, New Bulgarian University
Chaired by
Vessela Tcherneva, Head of Wider Europe Programme, ECFR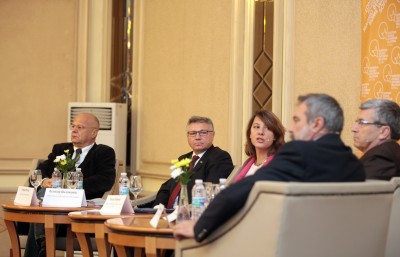 Ukraine and the Middle East have underlined how ill-equipped the EU is to respond to foreign policy crises. The EU's new foreign policy will have to contend not only with a world in which Europe's weight is greatly diminished but with a reluctance at the heart of the EU to face reality. The authors of the new ECFR paper "Rebooting EU Foreign Policy" argue that the culture of denial is exemplified by cherished EU foreign policy constructs such as "Europe's neighbourhood", "strategic partners", and "the comprehensive approach" which have become a substitute for real strategic thought and have encouraged a lethal complacency about the effectiveness of the EU's external policies.
How does Bulgaria find its place in the changed strategic situation and to what extent it is ready to do a re-evaluation of the threats and the choices it is facing? How does it evaluates its dependences and its chances to participate in the formulation of a new European security and foreign affairs strategy?