Youth Forum: Next Generation MENA- Exploring the power of change
Lo Youth Forum ha riunito giovani ricercatori dell'area mediterranea per discutere il potenziale delle nuove generazioni nel plasmare il futuro della regione MENA
Lo Youth Forum "Next Generation MENA- Exploring the power of change", si è tenuto a Roma il 21 Settembre 2021 nel quadro della conferenza "The future of popular mobilisation in the Middle East and North Africa: Insights from 10 years of struggle", evento finale del progetto "10 years of protests in the Middle East and North Africa. Dynamics of mobilization in a complex (geo)political environment", realizzato dall'Ufficio di Roma di ECFR, Istituto Affari Internazionali (IAI) e Centro Studi di Politica Internazionale (CeSPI), con il sostegno del Ministero degli Affari Esteri e della Cooperazione Internazionale.
Lo Youth Forum ha riunito giovani ricercatori dell'area mediterranea per discutere il potenziale delle nuove generazioni nel plasmare il futuro della regione MENA.
In questo quadro, il primo panel, "New voices from the squares: A call for civil rights and freedom from the MENA region", si è concentrato sulle rivendicazioni per libertà e diritti civili nella regione MENA, che nel corso dell'ultimo decennio hanno assunto forme inedite, coinvolgendo nuovi tipi di movimenti sociali e di attivismo. La discussione ha approfondito questi temi analizzando la situazione di alcuni Paesi della regione – quali Iraq, Libano e Libia – e esplorando il ruolo delle minoranze all'interno dei movimenti di protesta e l'utilizzo di internet come strumento di mobilitazione e contromobilitazione.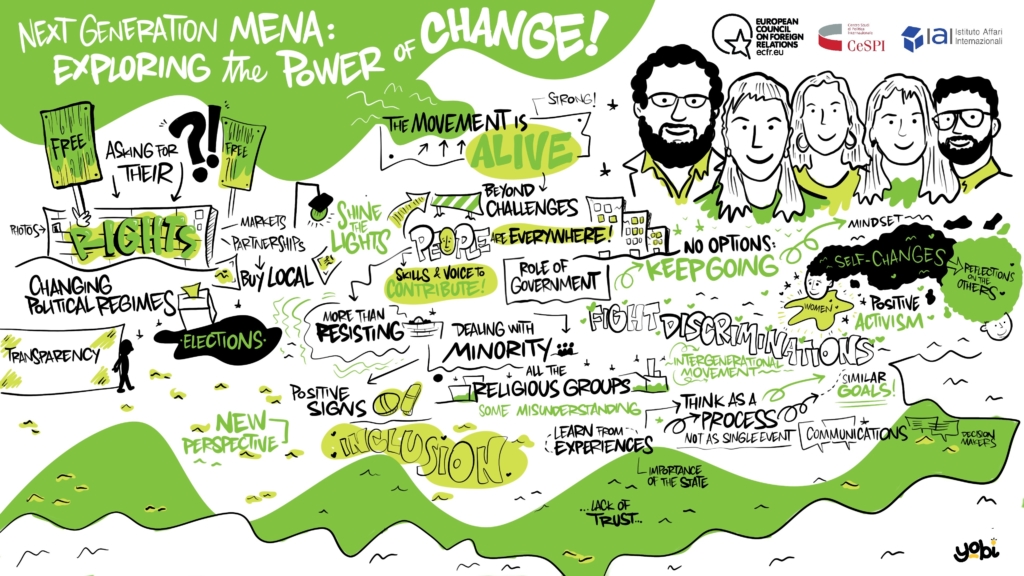 Il secondo panel, "The chance of digitalisation: Matching socio-economic growth and youth empowerment in the MENA region", si è concentrato sulla digitalizzazione come opportunità di costruire un futuro più sostenibile e resiliente per la regione MENA, e di affrontare alcune annose questioni quali la disoccupazione giovanile e il divario di genere nel mercato del lavoro, offrendo inoltre prospettive per la ripresa post-Covid. Tuttavia, come emerso nel panel, sussistono nella regione barriere multidimensionali alla transizione digitale, che rischiano di generare un aumento delle già profonde disuguaglianze nell'area MENA. La discussione si è dunque focalizzata sulla necessità di nuove strategie e riforme da parte dei governi regionali, così come di una cooperazione rafforzata e mirata con l'UE e altre organizzazioni internazionali.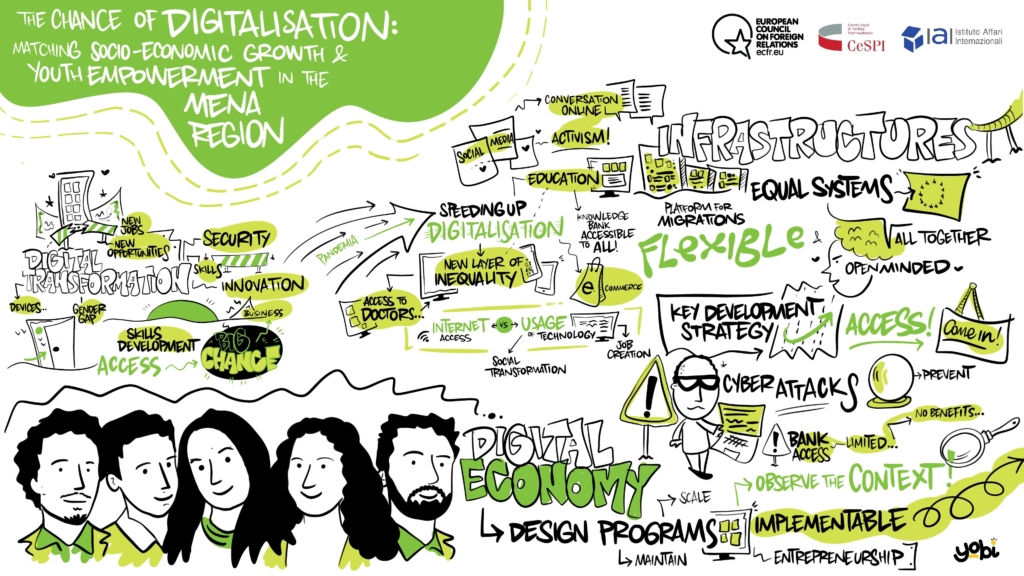 L'iniziativa è stata realizzata con il supporto dell'Unità di Analisi e Policy Planning del Ministero degli Affari Esteri e della Cooperazione Internazionale (articolo 23-bis del decreto del Presidente della Repubblica 18/1967).